By
Phil
- 7 October 2019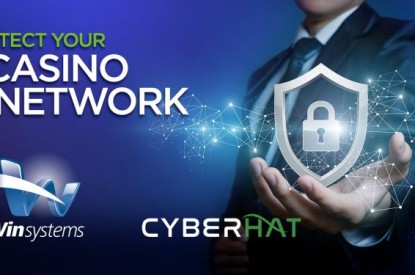 Win Systems is partnering with Israeli company, CyberHat, to offer a professional managed Cyber Security Operation Center (SOC), network protection and cybersecurity services to casinos and operators in the gaming and entertainment industry.
CyberHat is a multinational company with more than 70 highly skilled specialists offering cybersecurity professional solutions that enable companies of all sizes to grow their business while keeping a 100 per cent secure working environment. Thanks to CYREBRO, its Smart SOC (Security Operation Center), the company offers monitoring, detection, analysis, incident response and remediation services against cybersecurity threats, 24 hours a day, 365 days a year.
Through the agreement with CyberHat, Win Systems strengthens its position as a global supplier for the gaming sector, offering high-value and state-of-art solutions. The company has presence in 60+ countries around the world, and more concretely in its Systems Division, it manages more than 340 casinos in 20 jurisdictions with its casino management system Wigos, connecting 95,000+ machines.
Eric Benchimol, CEO of Win Systems, commented: "Our world is interconnected, so our sector is. This offers many advantages, but it also makes us responsible for protecting our networks and data. Thanks to the agreement with a global leader as CyberHat is, now Win Systems can offer best-in-class cybersecurity services to all operators in the industry, independently of their activity."
Nadav Arbel, founder and CEO of CyberHat, declared: "We're delighted with the agreement with Win Systems. We're sure that combining Win Systems' expertise in this industry and its requirements, with CYREBRO highly skilled professional team, we'll be able to offer an incredibly valuable service to the gaming sector, which has security as a critical factor."