By
Lewis
- 1 April 2021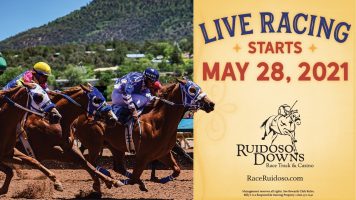 Ruidoso Downs Race Track in New Mexico has signed a multi-year betting services agreement for live racing with AmTote International, a product of 1/ST Technology.
The technology upgrade features V3000e self-serve terminals, which offer users an intuitive and rich graphical interface, alongside the F3000e teller and self-serve convertible terminal.
In addition, mobile betting through AmTote's MBet platform will also be deployed at Ruidoso Downs. The infield and indoor tote boards will accordingly be reconfigured with the latest LED indication.
The Ruidoso Downs racecourse begins its summer racing season over Memorial Day Weekend when live racing starts on Friday, May 28. The 2021 season spans 15 weeks for a total of 47 days of live Quarter Horse and Thoroughbred racing.
Jeff True, President and General Manager of Ruidoso Downs Race Track, said: "AmTote is a company I am very familiar with and have a great deal of confidence in. This new technology will redound to the benefit of the New Mexico racing industry for years to come.
"Running the 2020 season with 10 per cent occupancy was a challenge, and we can't wait to welcome fans back to Ruidoso Downs this summer. Although it's been a rough year for everyone, we are excited to have our horsemen, horses and fans back on the mountain, alongside some of the latest state-of-the-art products to bolster the customer experience."
Keith Johnson, Chief Revenue Officer at 1/ST Technology, added: "Ruidoso Downs leads the state and the region in live, on-track attendance and handle, so betting technology matters to us.
"Consequently, we're proud to be associated with the entire team at Ruidoso Downs and to now be hosting yet another of the world's major racing events with the world's richest Quarter Horse race, the All American Futurity, for many years to come.
"It's a real thrill to see AmTote and Ruidoso Downs working together to return value back to North American racing in these challenging times."