By
Phil
- 8 September 2014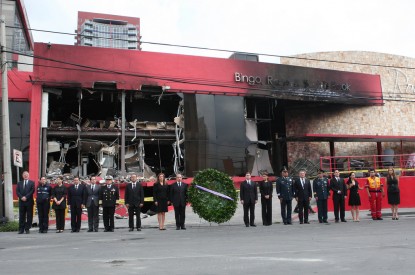 New Gaming legislation could be passed into law as early as this month according to Fernando Zárate Salgado President of the Commission of Gaming in the Chamber of Deputies.
Mr. Salgado said that a new gaming act would be presented before the House of Deputies on September 9 and "no later than the 20 of the month would already approved." The new law aims to regulate the gaming industry in the country, safeguard the rights of players and prevent money laundering.
Mr. Salgado said in an interview with local news agency Notimex that members of the committee still had time to fine tune the new legislation before presenting it to the Lower House. Crucially, the new law has found multi party consensus in its draft stage and has been developed alongside all seven political parties in the Lower House. In addition those involved in the local industry have also been consulted during the process including major players such as Caliente, Televisa and Codere.
President of the Mexican Gaming Association (AIEJA) Miguel Angel Ochoa welcomed the news saying that the cross party consensus on the issue of gaming was a great achievement. He also stressed that the new act meant that the government was finally recognising the industry first and foremost as a matter of public interest and that it needed to be regulated more closely in the future. He also stated that it was vital that the law be approved before the end of September as after that time, any new legislation could become stalled due to elections in some states.
The law will also ban the so called "umbrella" licences whereby operators were able to operate a number of slot parlours and sports betting shops under a single licence. Instead, each casino or gaming establishment will be issued a single licence per gaming establishment. Licences will be valid for ten years and will only be renewable for a further ten while the minimum entry age will be raised to 21. In addition slot machines found to be operating in chemists, shops and other small businesses will be confiscated.
Casinos and gaming were banned by the Betting and Raffles Law of 1947. While this law is still in place Mexico has seen a huge proliferation of slot parlours over the last ten years and there have been a number of attempts to do away with the old act.
More calls for reform came closely on the heels of the tragedy in Monterrey in 2011 when a group of armed men attacked, and then set fire to, the Casino Royale, located in an upmarket neighbourhood of the city of Monterrey, leaving 52 people dead. In February 2013 a Congressional Committee was charged with investigating how licences have been granted throughout the nation and to draft a new gaming act