By
Phil
- 4 July 2014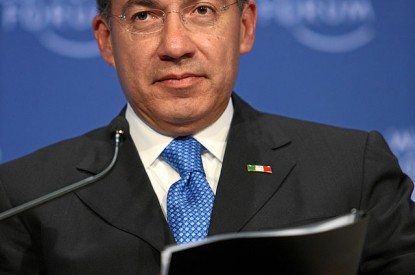 Ex President of Mexico Felipe Calderón has said that during his term in office the Interior Ministry (SEGOB) did not grant any additional casino licenses saying that that the majority were handed out in 2005; the last year of the government of former President Vicente Fox.
"In all cases without exception, casinos operate with permits issued to them by previous administrations, particularly those granted in 2005," Mr Calderón said in an open letter to local newspaper The Economist. According to Mr Calderón, who was President from 2006-2012, in the cases when the Interior Ministry issued a permit they did so only "in compliance with court procedures."
The comments are aimed squarely at ex interior minister Santiago Creel who has for years come under fierce criticism for issuing a great number of licences in 2005 and who has been blamed for the sharp rise in gaming in Mexico and its increasingly chaotic landscape.
In the spring of 2005 President Vicente Fox attempted to completely do away with Mexico's 1947 gaming laws and pave the way for a number of Las Vegas style casinos in tourist hotspots. However, lack of support for the bill in Congress meant that his administration, rather than totally scrapping the old law could only add new legislation as an appendix to the old law.
While changes to the 1947 act did not give the go ahead for fully fledged land based casinos it did allow for sports betting shops, and bingo and slot parlours. It also granted the then head of SEGOB Santiago Creel the power to grant licences. Before leaving office in 2005 Mr. Creel granted 763 licenses to gaming parlours all over the country.
A new law is looking increasingly likely in Mexico and could be up for debate as early as September. One of the guiding principles of the new law is to end the so called "umbrella" licences whereby operators are able to operate a number of slot parlours and sports betting shops under a single licence. The new law will see a major new shake up of licences which were first granted in 2005 as once the new law is passed operators will have to reapply for a licence under the terms of the new act once their licence expires.