By
Phil
- 12 September 2014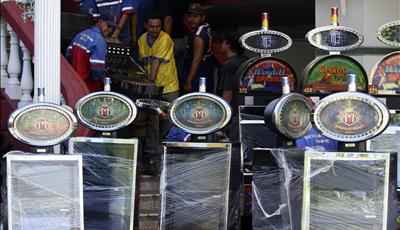 The Mexican Gaming Control Board within the Mexican Interior Ministry (SEGOB) has warned that illegal slot machines are now a major factor behind organised crime and has launched a high profile media campaign aimed especially at tackling underage gambling.
According to a recent study, slot machines located in small businesses and shops generate around 85.7m pesos per day or around 28.8bn pesos a year. While some estimates place the number of illegal slots at ranging between 75,000 to 80,000 there could now, according to other estimates, be as many as 200,000 illegal slot machines located throughout Mexico.
Slot machines outside of casinos regularity attract minors as there are no rules in place to safeguard against underage gambling. According to the government website, slot machines, which are banned by law, are increasingly, "a source of corruption to minors and their use is not a game it is an addiction which opens the doors to delinquency." The statement goes onto to say that slot machines represent a potential danger to society referring to studies which have shown that addiction caused by this type of slot machines is considered by doctors to be the "crack cocaine" of gambling.
The Interior Ministry also said that illegal slot machines, which are becoming increasingly commonplace in markets, pharmacies, and other business establishments, "create a false expectation of greater economic rewards without effort."
The growth of illegal gaming is particularity serious in Mexico where studies have shown that money generated by slot machines outside of casinos is being used for money laundering as well as other illegal activities by criminal gangs. To combat the phenomenon, which has spread alarmingly over the last five years, SEGOB has launched a public awareness campaign on national media. With the motto "Addiction Is No Game" the campaign asks the public to report the location of any illegal slot machine to the government via a confidential telephone line.