By
Lewis
- 21 July 2020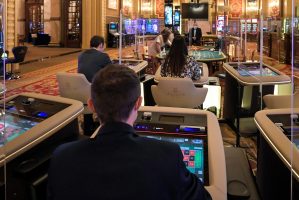 Monte-Carlo Société des Bains de Mer have found a new way of bringing the classic French Roulette game to its players. At the Casino de Monte-Carlo, Live French roulette can now be played for lower denominations in the comfort of stand-alone play stations.
Spintec's Electronic Table Game (ETG) solution integrates individual stand-alone play stations with a live French roulette table, which allows people to play at lower stakes, but also meeting the social distancing requirement by allowing a safe distance between the players and the croupier.
As the Casino de Monte-Carlo is one of the oldest and most renowned casinos in the world, Spintec designed the cabinets in line with the interior design requirements.
"Our Live French Roulette is very important to us, so we are quite pleased to be able to offer our guests an enjoyable way of playing. Our French Roulette tables are unique in the way that they can accommodate players at different levels of skill, but also in larger numbers and at a safe distance from one another," said Boris Donskoff, Managing Director of the Casino de Monte-Carlo.
"We are extremely excited to have been chosen by the Monte-Carlo Société des Bains de Mer to become their ETG supplier for Le Casino de Monte-Carlo, which was voted 'Casino of the Year 2020' and 'Best Gaming Operator UK & Europe 2020' at ICE London this year.
"This installation is also one of the best-looking ones we have done so far, and we are certain that the players will enjoy it. We started out with the intention of providing an innovative and attractive solution, which upon completion proved even more valuable under the circumstances brought about by the Covid-19 pandemic," added Goran Sovilj, Managing Director of Spintec Nederland B.V.