By
Phil
- 2 May 2017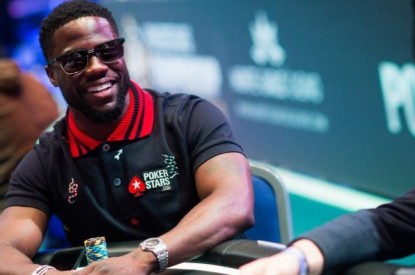 Hollywood star and global comedic sensation Kevin Hart has announced a partnership with PokerStars, an Amaya brand, to promote the game of poker and introduce PokerStars, the world's largest online poker site, to new audiences.
Mr. Hart announced the partnership in a press conference in Monaco over the weekend during the PokerStars Championship presented by Monte Carlo Casino, one of poker's most prestigious live events, which is running until May 5.
"I am going to make poker fun, and working with PokerStars will give me the poker platform I need to do this," Mr. Hart said. "I'm glad there are all these poker pros here who I can compete with and take their money. But the best thing about poker is that anyone can play it, whether you're making millions like Daniel Negreanu or just sitting around the kitchen table playing for coins. I'm not going to tell you yet how we're going to do it. But I have some great ideas for bringing poker to the people, while having fun."
Mr. Hart said he will leverage PokerStars marketing, live events and his own social media channels to promote the fun and social aspects of poker.
"We take poker seriously, because that's our business. Kevin Hart makes everything he does fun because that's his business," said Eric Hollreiser, Amaya Vice President of Corporate Communications. "Kevin is a maverick and we're thrilled to work with him to take poker to new audiences around the world and have a great time doing it."
Mr. Hart arrived in Monaco to take part in the action at PokerStars Championship tournaments at the glamorous Monte Carlo Bay Casino Hotel & Resort. He shook up the tournament floor with his antics and banter, breaking the often quiet and focused concentration of many of the world's best poker players.
PokerStars Championship presented by Monte Carlo Casino is running from April 25 to May 5, at the Monte Carlo Bay Casino Hotel & Resort. Poker's best players will compete over 11 days of high-octane competition for an expected prize pool of over €30m. The PokerStars Championship series continues with its 2017 schedule after the winner is crowned in Monte Carlo.