By
William
- 1 April 2020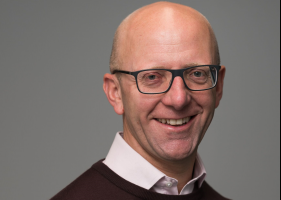 Following the acquisition of Novomatic UK's Gaming Technology Group last year, Inspired Entertainment recently announced a stronger and more diverse Virtuals portfolio including its new V-Play Soccer 3 game. G3 speaks to Steve Rogers, Chief Commercial Officer at Inspired Entertainment, to find out more about the evolution of Virtual Sports and its position within the modern sports betting portfolio.
What's your background in Virtual Sports?
I have been involved in Virtual Sports since the product category was invented in the UK market in 2000. The initial product was created by my business following demand from UK betting shops to add more content to screens, soon followed into online, and then pushed internationally.
How have Virtual Sports evolved since you joined the industry?
We've seen Virtual Sports grow from a niche product to a global industry. This change has been driven by player demand for more — more innovation to suit advancing technology, more realistic game play, more choice of games on offer, and more betting options, which have created a resilient global marketplace.
Could you tell us about Inspired's Virtual Sports offering?
Inspired Entertainment has the largest portfolio of Virtual Sports in the industry. We have well over 20 different Virtual Sports products, with more releases planned this year. Our Virtual Sports content is in 50,000 venues worldwide and on more than 200 websites. Inspired is the only provider of American football, with V-Play NFLA Legends Football, an NFLA (NFL Alumni) officially licensed product that brings all-time favourite NFL legends back to the field.
Inspired's V-Play Basketball has been one of the best-performing Virtual Sports online since its launch in 2019, offering an ultra-realistic basketball experience, created using the latest motion capture technology and state-of-theart proprietary software and featuring betting markets that are popular with live basketball.
V-Play Soccer 3 is the latest addition to Inspired's most popular Virtual Sports series of all time. It sets a new standard for the industry, including more goals per event than any other game, the option to pick women's teams, and the first Virtual Soccer product to feature markets for individual goal scorers in the match. All Inspired's Virtual Sports are available for online, mobile and retail with a variety of deployment options to suit any client's specific requirements and budget.
How are your Virtual Sports games performing? What markets are responding well to this vertical?
Inspired's Virtual Sports are performing extremely well, with consistent growth year on year. Online and Mobile revenue continue to grow at a consistent rate, which is why we have introduced Inspired's new V-Play Plug & Play solution, a complete end-to-end online scheduled virtual sportsbook product that allows operators to offer their players Inspired's award-winning scheduled Virtuals with minimal effort.
Plug & Play is simple and quick to install via the Virgo RGS, making Inspired's proven Virtual products available with no sportsbook integration or UX development needed. Our push into the US market continues apace, with an expansion of our existing deployments in Nevada, New Jersey and Pennsylvania and new states going live in 2020 alongside sports betting or as a precursor to sports betting.
How has the suspension of live sports affected Inspired's Virtual Sport business?
We have a lot of customers who have been using our Virtuals to fill lulls in live sport and to keep their players' favourite sports seasons from never ending, so they have ramped up their channels, and new customers are using our trusted and premium content at this time to fill the huge gap they are currently experiencing. Inspired's virtual sports are a great way to keep players engaged, either in retail or online, with the sporting events calendar so impacted by Covid-19.
How do you engage players into moving from the traditional sportsbook to Virtual Sports?
Our goal isn't necessarily to move clients from one to another. Virtual Sports have been shown to increase general incremental revenue for clients, complementing the sportsbook as opposed to cannibalising it.
Virtual Sports offers a unique sportsbook experience with its own benefits to players. Virtual Sports run on a constant schedule, so there's always something to bet on in the absence of live sports. New events begin anywhere between every 3-5 minutes and last a matter of minutes, so there's more instant gratification for the players who don't necessarily want to wait 90 minutes for a football match or 45 minutes between horse races.
Standard market types, such as winner, forecast and place, are commonplace in Virtual Sports. How much scope is there for creativity in virtual markets? Is there demand out there for more market types?
We are in complete control of our Virtual Sports, but that shouldn't mean we stray from what makes Virtuals successful, which in large part is simplicity. We can offer pretty much anything, including more granular selections should we want to.
However, we have seen that the appeal of Virtuals is that customers can bet the same markets they can in real sport and are familiar with. We don't want to overcomplicate the product unnecessarily and alienate players.
Our recent deployment in Pennsylvania saw us adding a special Bet Multiplier to the game to drive higher prize outcomes, as an example.
What is key towards ensuring Virtual Sports remain a successful part of a modern sports betting portfolio?
Keeping up with sports betting trends is key. An essential part of Virtual Sports success is mirroring the live experience, so keeping up with new markets and making sure Virtual Sports can integrate with new sportsbook features is vital.
Making sure our games are at the cutting edge graphically is also very important. With how fast graphics are advancing in Video Games, players will expect Virtual Sports to provide a similar standard of visuals.
How is Virtual Sports betting different from live sports betting? Is a unique selling point of virtual sports that bettors do not require indepth knowledge to place a bet?
Virtual Sports content betting is different from live sports betting with regard to length of an event and frequency, and in providing more fun, betting options and more chances to win.
By offering higher frequency games and lifelike visuals, lottery, casino, sportbooks and interactive customers are able to diversify their product portfolio and fill lulls in live sports content. Virtual sports are easy to play. Anyone can win or take part without any knowledge of sports betting.
The schedule and margins of the games are operator-configurable, providing ultimate flexibility. The betting options, the 24/7 availability, and multiple platform options allow players to bet on sports content in new, convenient and exciting ways, and the content can easily be adapted to different types of players: lottery, slots, sports bettors, social and mobile, while driving incremental revenue for our customers. With Virtual Sports, the season never ends.
Is greater clarity required from regulators, particularly in emerging markets, to define the Virtual Sports betting marketplace?
With regard to how regulators view Virtuals specifically, I would say greater clarity is needed because it's quite a different product to either traditional sports betting or slots and casino games. We are working with regulators to make them aware of the products and how they work so that they can be easily mapped against a set of pre-existing regulations. This can change country-by-country or even stateby-state, in the case of the US market.
What are the potential future applications for Virtual Sports? How do you see Virtual Sports developing in the future?
We've seen Virtual Sports applied in a variety of different ways outside of a typical sportsbook, and we're always looking for unique applications for our products.
Recently we've adapted our products for state lotteries in the US, created "On Demand" variants of our Virtual Sports for online casino operators, and provided our Virtual Sports engine to ITV for a nationally broadcast TV show in which we attempt to correctly predict the result of the Grand National.
Due to the adaptability and flexibility of Virtual Sports, potential future applications are endless. VR technology is an area we're keeping an eye on. We've already incorporated POV elements into our new Horse Racing products. Perhaps one day soon the player will be able to fully experience the race from the jockey's perspective in Virtual Reality!