By
Phil
- 3 April 2020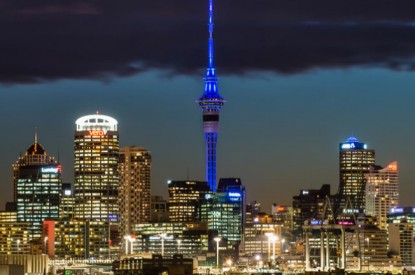 Sky City's Sky Tower in Auckland has been lit royal blue to acknowledge and support the tireless efforts of front-line emergency services staff engaged in the fight against COVID-19.
The initiative was the suggestion of an Auckland Police officer, who wanted to thank medical workers that are putting their own lives at risk to save others.
It also comes as New Zealand marks one week since moving into lockdown alert level four, and over 6,100 retired and part-time health professionals have returned to the workforce to support their colleagues; working as doctors, nurses and care and support workers.
The Sky Tower will be lit blue until April 5.
The operator has confirmed it will lay-off 200 of its 5,000-strong workforce to ease pressure on its NZ$20m a month wage bill, with another 700 staff being kept on a wage subsidy scheme being offered by the New Zealand government. Waged staff have been asked to accept a pay cut to 80 per cent of their pre-virus wages with those not wishing to accept the offer provided the option of voluntary redundancy.
Executive salaries will be reduced by between 20 per cent and 40 per cent with CEO Graeme Stephens, CFO Rob Hamilton and COO Michael Ahearne all taking 40 per cent cuts. The board has volunteered to cut its fees by 50 per cent in 2020. It will continue with redevelopment work at its Adelaide Casino as construction work is considered an essential service in Australia.
CEO Graeme Stephens said: "This is a storm we could, and would, weather if we were to re-open within a few months in a pre COVID-19 world. Unfortunately, the impact of COVID-19 is not limited to the short-term consequences of closure. Even when we fully open, we reasonably expect that weaker economies, lower personal disposable income and changed entertainment habits, as well as longer term travel restrictions, will result in us recommencing as a smaller, domestically focused business. Given that our business has fundamentally changed for the foreseeable future, we need to take action now to address this."