By
Phil
- 24 February 2020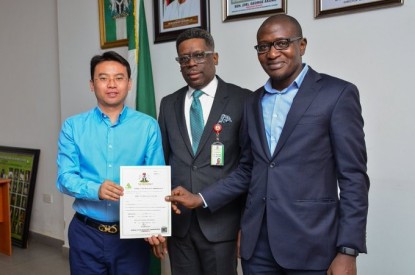 Betwinner and Bet24Hrs have secured sports betting licences form the National Lottery Regulatory Commission of Nigeria (NLRC).
Speaking at the presentation ceremony at the NLRC Headquarters in Abuja, the Director General, Mr. Lanre Gbajabiamila stated that the Commission had added more impetus to ensuring transparency in the business of lottery in Nigeria. He said further that the Lottery Industry had been the focal point of happenings in the past months, whilst also cautioning the licensees not to give the Commission reasons to come after them due to non-compliance as that would lead to a revocation of their licenses.
Continuing, the DG called on all lottery operators in Nigeria operating without a license to get regularized at the Commission without delay or face the full wrath of the law. He also called on all licensed operators to be prompt in making remittances of lottery proceeds due to the Federal Government.
Mr. Gbajabiamila congratulated the companies for finally going through the rigorous process of obtaining a Sports Betting Permit, whilst adding that he was always disappointed when some lottery operators had to be unfortunately shutdown due to non-compliance. He therefore encouraged the new licensees to ensure they abide by the regulations of the Lottery Industry in Nigeria moving forward in order to avoid a shut down by the Federal Government. He advised the companies to make necessary remittances as at when due and informed them that the Terms & Conditions of the Sports Betting Permit will be changing from time to time as the industry is changing.
In his response, the Managing Director of BET24HRS, Mr. Roy Jiang, thanked the Commission for their support through the entire process of obtaining a Sports Betting Permit, promising that BET24HRS would spend 24 hours a day, seven days a week doing their best possible to contribute to the progress and growth of the lottery industry in Nigeria
DG, NLRC, Lanre Gbajabiamila hands another Sports Betting Permit to the MD of Advance Hospitality LTD (Betwinner), Mr. Olatunji Idowu in a ceremony in Abuja.
Managing Director of BetWinner, Mr. Olatunji Idowu thanked the Director General for the opportunity to be a part of the lottery industry, adding that even though they have had a couple challenges, they were dedicated to being a trusted partner in the lottery industry. He said that BetWinner is encouraged with the sanitization that is going on in the industry and would endeavour to make all remittances for good causes. He further noted that the Commission would have no regrets issuing them with the Sports Betting Permit.