By
Phil
- 22 August 2017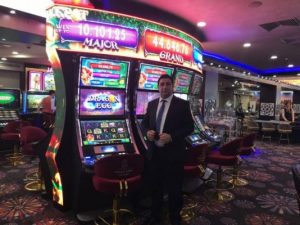 Apex Gaming has just installed its Dragon Egg slot and jackpot system at Casino Skull King in Kyrenia, Northern Cyprus.
The hardware behind this Dragon Egg jackpot system is known as the Pinnacle Premium Jackpot with Pinnacle Premium SL. Two banks of four Pinnacle Premium SL slots adorn each side – each is equipped with 3 x 27" monitors.
Gökhan Parlak, Slot Manager at Casino Skull King, said: "The Dragon Egg island is a wonderful addition to our casino floor. We have never seen anything of this class before. It simply has everything we are looking for – class, style, a brilliant game, fantastic graphics and a very clever jackpot system. Our customers literally stand in line to play this."
The game has been designed especially for this jackpot island and the game makes full use of all the game screens as well as the large overhead display. Four individual core jackpot levels have been created in such a way that the player has the chance of winning on 16 different jackpot levels. The game, the suspense, the enjoyment, the sheer APEX quality – these all go together in taking gaming to the next level.
A further 15 Apex Pinnacle SL slant top slots adorn Casino Skull King as well. APEX gaming makes full use of its dedicated games design team in Austria to create such a wide range and choice of games. The EVO3 platform brings them accordingly to life so much so that players are astounded about their look and sound.
"We are proud to have made such a major impact to the casino success so quickly," Kubilay Özer, Global Sales Director at APEX gaming, added. "We have pooled all our experience together to create a solution that is a game changer and the feedback we have received has exceeded our expectations".
This casino from Oscar Resort is very proud to have the DRAGON EGG jackpot island. "It is not often nowadays that something new can cause such a positive effect. The Dragon Egg jackpot island has quickly become the highlight of our casino", concluded Mr. Parlak.