By
Phil
- 18 March 2019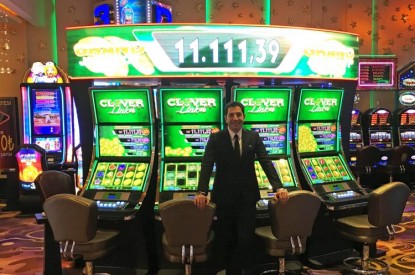 Viva! Casinos in Northern Cyrus has installed the Clover Link Big Island from Apex gaming which consists of a total of eight Apex Pinnacle Premium SL slot machines.
The impressive jackpot island with large overhead display has found a prime setting at this exciting casino.
The Viva! Group is currently present in six countries and employs approx. 2,000 people. The Viva! Group operates casinos in Northern Cyprus, Bulgaria and the Czech Republic.
Murat Yılmaz, Slots Manager at the Viva! Group in Northern Cyprus, said: "I saw that Clover Link had gained much popularity in the Cypriot market in a relatively short space of time. Thus, we wanted our customers to have the opportunity to play on this. The players were excited about the way the Clover Links jackpot island looks. It really demands attention. Players are curious and want to try it out. The big difference is if the players then like the game and stay and play on it. The game simply has to be interesting and offer something new and exciting to our customers. APEX has done both very well. The design, its technology and the game volatility are effective and sophisticated. This Island Solution adds additional value to our casino. Now we are on Las Vegas level."
Kubilay Özer, Global Sales Director for Apex gaming, added: "We have certainly achieved that here at Viva! Casinos. Our thanks go to Murat and his team for openly welcoming the chance to bring Clover Link to their players."
Caption: Murat Yžlmaz, Slot Manager at Viva! Casino in Northern Cyrpus, with the Apex Clover Link Big Island