By
Lewis
- 5 November 2020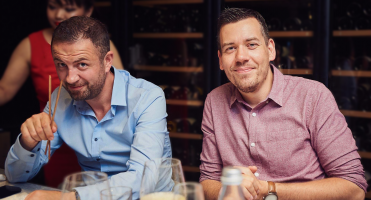 Jeton Kodia, Founder of Oddspedia, explains how the odds comparison site caters for both beginners and experienced players through cutting edge technology and optimised back-end software. Jeton begins by outlining the site's position within the iGaming affiliate industry.
Oddspedia was founded in 2014 by me and my business partner, Jan Möller. The main goal of the company is to provide valuable, competitive and user-friendly services for sports betting fans, players and publishers. Since its inception and over the course of several years, Oddspedia established itself as one of the biggest international affiliates in the sports betting world. Our leading product, Oddspedia.com, provides customers with a complete experience using real-time data and odds from different operators around the world. This all-in-one website is extremely easy to use for beginners and very useful for experienced players.
How is Oddspedia different from other odds comparison sites?
The website aims to provide as much value to the user as possible, and the information is conveyed in a manner to ensure a great user experience. It starts with guaranteeing a reliable odds comparison – odds on Oddspedia are being scanned in real-time across more than eighty bookmakers to ensure that only the most up-to-date data is displayed.
This is complemented by features not commonly found in competing websites, such as geolocation to show only relevant betting sites for the user, direct links to bookmakers' betslips, full odds movement history and various betting tools. It is what makes Oddspedia one of the best sites for odds comparison. The website has amazing sports coverage as well, providing live score information on more than 30 sports.
Users can also explore sports statistics, bonuses and promotions, or read the latest news on their favourite leagues, teams and matches. All of this is wrapped in an app-like web experience, with quick performance and a state-of-art modern design makes it easy for Oddspedia to stand out from its competitors.
How fast is Oddspedia's odds scanner software? How long is the lag time between odds changing on an operator's site and your own?
Oddspedia is widely popular amongst bettors because of the reliable odds comparison it provides. Odds are constantly scanned across all bookmakers to achieve maximum accuracy. Pre match odds are fetched every 15 seconds for all betting markets on an event.
For running in-play events, where quick updates are critical, the time between refreshes is down to five seconds on average. This leads to odds on the site practically mirroring the ones offered on the bookmaker. All of this is made possible by using cutting-edge technologies, heavily optimised back-end software and a lot of server computing power.
How often do you need to update the UX, UI, and back-end software? What level of investment has it taken to get to this point six years post-launch?
In August, Oddspedia had its biggest makeover yet with its relaunch. The new version was in development for more than a year and enabled the development team to apply new tools and technical innovations that were simply not possible on the old site. Major front-end and back-end changes were made to improve the user experience, and the new UI provides much more natural and polished user flow.
To ensure seamless operation, updates regarding back-end software, systems, processing odds nodes, and new integrations are introduced almost on a day-to-day basis. A seven-digit level of investment to build and maintain a quality product might sound steep, but as we all know a good reputation is worth more than money.
How do you ensure Oddspedia is an accessible sports companion for beginners whilst still being useful and relevant for experienced bettors?
Our primary goal is to be a valuable assistant for all sports fans. Up-and-coming punters can learn the basics with Oddspedia quite quickly. They can follow the sports they know well, understand the betting markets and other sports betting essentials. One of the key reasons is the clear way we display information to them – there are no complicated tables overloaded with numbers and colours or hard to grasp labels and buttons. At the same time experienced bettors utilise more advanced features like analysing the odds movement history, checking statistics and utilising betting tools to their advantage.
How do you manage your relationship with operators?
We always treat every operator, even the smallest one, as a strategic partner. But as an affiliate which takes great care to promote our partners responsibly and abide by each market's respective regulations, we've found that there's often a profound lack of respect for our role in sending operators new clients. At the end of the day, we are looking for honest and loyal partners and we are happy that we have some!
What are the main challenges marketing Oddspedia?
The affiliate channel has proved over time that it is a cost-effective way to connect brands to target market customers. Affiliates like Oddspedia help operators win the battle for players with increased brand exposure, attracting specific audiences, and cultivating lifetime value customers.
Given that the market is so overcrowded and there's plenty of competitors, it's highly important to each affiliate to be able to stand out and provide unique features. At the heart of the decision-making process behind Oddspedia's marketing mix remains the motto "It's All About Sports". The most important centrepiece is the product.
How do you quantify success?
Building a value-added website which users enjoy using on a daily basis is our measure for success. To quantify with metrics, we are looking at the browse time, pageviews and returning visitors. The numbers for all of those metrics are rising, especially since the relaunch. Average session duration amounts to several minutes, bounce rate is low, and the overall traffic is increasing as well.
We believe that having an average session duration of several minutes and very low bounce rate is a success. And it's nice to see that users are liking our product and find it useful. Of course, the volume of the traffic is also important to us. But for long term success you have to keep the attention of the visitor, which will naturally bring even more customers.
Oddspedia offers odds services in NBA and NHL. How competitive is the US affiliate space and are you contemplating stepping into the US market anytime soon?
Oddspedia has American sports covered in detail. The site offers wide coverage from sports in America ranging from the popular attractions such as NBA, NHL, MLS, MLB to college competitions. The US affiliate space is growing, with some of the leading European affiliates sizing up the market. We plan to soon step into the US affiliate landscape by providing a customised version of Oddspedia targeted to the needs and requirements of the market.