By
Lewis
- 9 August 2021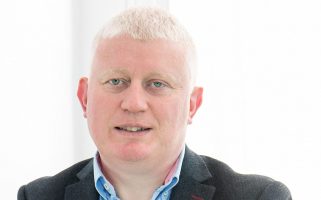 Jonathan Power, CEO of Onionsack, details the Irish software-as-a-service company's journey from niche provider to cutting-edge technology partner.
Watching Euro 2020 this summer, with England getting all the way to the final, brought back memories of another football tournament at a really important time for Onionsack. The 2006 World Cup was when we started.
A technology company that enables businesses in the sports betting industry to take bets safely and accurately via natural language, our very first client was the UK Tote. And our very first bet? England to win that World Cup.
From that day until now over 100 million bets have been placed with betting operators via Onionsack, directly from customer expression. We've been processing bets sent in natural language since 2006 – now it's in the millions every month – and from that we've learned so much.
From working with the Tote, we first concentrated on horse racing and football, but we've been able to adapt the platform over time to understand bets on all major sports and have recently added the Big Four US Sports.
Onionsack took its first bet by a mobile phone SMS in 2006 for the UK Tote. The big fear was putting the wrong bet on and a customer losing what would otherwise have won. Although as this very first bet was on an England World Cup win we had nothing to worry about!
With Tote Jackpots that was a lot of money at stake for a small bet. Thankfully it never happened. And still hasn't.
The most popular bets then were actually a lot different to what they are now. Apart from accas we would get a lot of bets on which teams would win their group. This was before in-play betting – which has really taken off – so most bets were team to win in 90 minutes and first player to score.
Now we see bets that didn't exist then – such as win and both teams to score, over/under 2.5 goals and, of course, loads of in-play bets like who will score next.
From being a niche provider helping to reduce costs for retail and online operators of the bets placed on horse races at their telephone betting centres, Onionsack's platform has become front and centre in today's messaging-app centred world.
Thanks to the expertise harnessed from our deep machine-learning algorithms, which process millions of bets each month to progressively crystallise patterns and distil instructive data points, Onionsack understands what a customer wants to bet on via messages written or spoken and then places it on behalf of the customer. We are the only company that does this.
As we've grown and developed we've become more expert at understanding punter expression. Instead of forcing a straitjacket on customers, making them bet in a certain way, we've learned to understand how people like to bet, if they're given the opportunity.
Unsurprisingly, people choose to bet in the same way they choose to do anything on the internet. They search using natural language and they write short and simple text messages. And because it's made so simple, people who bet via the Onionsack platform bet more often. Betting by message is demonstrably the fastest way to bet. Singles, multiples, and exotics are faster and easier to place by message.
Our platform also generates outbound messages, personalised to customers' interests- lineups, scores, horses running, trainer updates, results. Every alert contains a betting opportunity. Customers just reply with their stake to place a bet.
Onionsack has worked with great brands like William Hill, Paddy Power, Betsson and Supabets. But we're probably best known for our partnership with Paris Mutuel Urbain (PMU). At the heart of online betting in France is PMU – just as it has been at the heart of horse racing in France for more than a hundred years.
The partnership with PMU started in 2016, and the journey we've been on together has been instrumental in the acceleration of our thinking.
In less than five years, Onionsack has become one of PMU's most trusted technology partners. We started an innovative trial together called ParisSMS, through which PMU customers could choose to make a bet by SMS. It's gone better than they could even have hoped. It's been such a hit with punters that PMU users place an average 160 bets per month using Onionsack – which is by some distance more prolific than any other channel.
This kind of innovation is particularly useful in a market such as France which is perhaps less competitive than many in Europe. Online gambling in France was legalised just before they staged the World Cup in France in 2010. As a result, gamblers opened over 1.2 million accounts on licensed sites in the first month.
In addition to our bet-by-SMS service, we added the option of using Viber. Customers were quick to jump on this, which is good news for operators as it can be done at a lower cost than using SMS. With the online sports betting market in France having grown twelvefold in the decade since 2010 – worth €880m in 2019 – innovations like this will help those operators most responsive to customers' needs fare best, despite the challenges inherent in the highly regulated, highly taxed market.
While Onionsack's early development was intertwined with horse racing, over the years we have adapted our platform to understand bets on football, tennis, golf and rugby. During 2021 we are adding the capacity to include basketball, American football, baseball and ice hockey.
As the US online sports betting market opens state-by-state, it makes sense for operators to offer betting using natural language from the get-go, as there's less in the way of legacy betting coupons or methodology with which to integrate and it is how punters navigate e-commerce already.
But we're not stopping here. There's an obvious next step for the industry: voice betting. We're all used to using Siri and Alexa so it's a natural progression. More than twice the percentage of 18-34 year olds use voice search on the internet already than do the 55-64 age group. Placing a bet in the same way you may change your Spotify playlist or order a takeaway could revolutionise the industry.
Nor is that the limit of our plans for the next year. We want to revolutionise how the whole industry thinks. Have you noticed that the most popular websites like Google, eBay and Wikipedia are all designed around a natural language navigation? Simple home page; simple search function. That's not what sportsbooks look like. They're complex and messy.
All sportsbooks look a bit like each other, and a bit like the old coupons in a retail bookmaker. They silo you into a system of browsing through page after page in the hope you'll find something you want to place a bet on.
Getting to what you want by typing isn't rocket science anywhere else on the internet, so Onionsack is on a mission to make this the norm in sports betting too. We can't tell you any more just yet but watch this space.