By
Phil
- 18 November 2013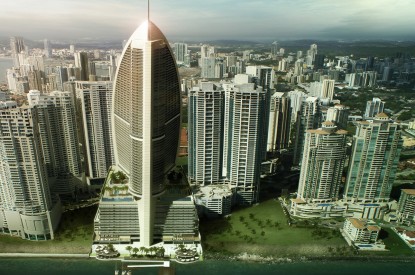 South African operator Sun International and Newland International Properties, the developer behind Trump Ocean Club International Hotel and Tower in Panama City, have confirmed the conclusion of a US$45.5m deal that will bring a 600 slot casino to Panama.
This partnership aims to introduce superior entertainment and an ultimate guest experience that is unparalleled in Latin America. This highly anticipated addition to the hotel is scheduled to commence construction in December 2013 and is expected to open in the second half of 2014.
Sun International has now bought three floors of what is the tallest building in Panama on a freehold basis and has secured a 20-year casino licence. The casino is slated to be open in June 2014. Sun plans to invest a further amount of $60m to build-out and fully develop the multiple spaces.
Encompassing 75,000 sq. ft, the casino will occupy the second level of the hotel. It will include 32 gaming tables for blackjack, poker, roulette and baccarat, along with a superior collection of 600 slot machines showcasing numerous diversions for both the amateur and experienced gamer. Additionally, a fine-dining restaurant and extensive bar and lounge will offer guests the finest of dining and drinking experiences.
On the 65th and 66th level of the hotel, Sun International will present the Salon Privé, a separate gambling space reserved for VIP guests. Here, the highest clientele will find private suites and an exclusive restaurant and lounge only accessible to guests on these floors. Sun International plans to invest a total of $60 million to build-out and fully develop the multiple spaces.
"We're thrilled to embark on our second venture in Latin America," said John Fraser, Commercial Manager from Sun International. "Latin America has become an area of focus for Sun International as we have applied for a casino license in Cartagena, Colombia and we are also looking to enter Uruguay and Peru; we consider Panama to be a very important and strategic market for us and are happy to be aligning ourselves with Newland International Properties and their award winning hotel."
Based in Johannesburg, South Africa, Sun International is a globally recognized public company with an impressive portfolio of 27 resorts, luxury hotels and casinos operating in eight countries. Within Latin America, they own and operate the Monticello casino in Chile. The company prides itself on successful leisure group offerings focusing on superior gaming, hotel and entertainment experiences that exceed customer expectations.