By
Phil
- 16 October 2017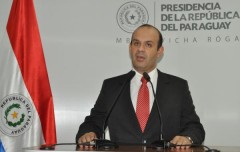 The Chamber of Senators of Paraguay has accepted the partial veto of three articles of a new slot machine bill currently up for debate.
The presidential objection is based on giving Paraguay's National Gaming Commission (CONAJZAR) more control over the rise in number of illegal slot machines rather than leaving slot machine licences in the hands of the municipal governments.
Senators accepted the presidential veto of Articles 4, 6 and 8 of the Constitution: a legal initiative that establishes measures designed to safeguard the right of minors. The Executive argued that the articles would in fact have shifted licensing authority to the municipal governments and ignored laws which established that CONAJZAR was the proper licensing body.
In addition, the veto also pointed out that the priority of the legislative right now should be to strengthen CONAJZAR's control over gaming by granting the body with a higher budget. With less than fifteen people the body is chronically under staffed and its budget is inadequate for state supervision of the gaming industry. Last month Javier Balbuena, head of the National Gaming Commission (Conajzar), said that slot machines were a "plague" on the whole country. Many slots are present in small businesses and bars in several cities and often near educational institutions as well.
However, Balbuena told local press that the board was becoming increasingly active when it came to its crackdown on illegal slots. "What we are doing is regulating gaming and, therefore, we issued a resolution three weeks ago in which we resolved that the municipalities will have a system of monitoring and digital control. This will help as these machines can no longer be on the streets because they will require an internet connection. Several communes have already adopted this ordinance, "he said adding that the board has already destroyed hundreds of illegal slot machines throughout Paraguay. "The idea is to continue with the controls, but for that we require the support of all the municipalities, because for us it is impossible to be in every city," he said.
Earlier this month Balbuena said that the board is struggling to cope with the number of illegal gambling halls. "We close the halls but the next day they open somewhere else. Our physical capacity does not allow us to cover every place in the country. We have closed more than 20 illegal gaming rooms, it is a titanic struggle," he said.