By
Phil
- 5 January 2018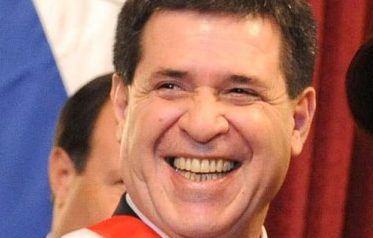 The Justice department in Paraguay has dismissed the accusations made against the Head of the gaming commission Javier Balbuena (CONAJZAR), the mayor of Ciudad del Este Sandra McLeod de Zacarías Irún, and the President of Paraguay Horacio Cartes.
The charges had been put forward by Nicolás Russo acing lawyer for the Union for Paraguay's National Ports Authority (ANNP) who argued that the defendants had unlawfully paved the way for the use of the institution's land for the construction of a hotel and casino in the city of Ciudad del Este.
In December 2016 the Union for ANNP workers denounced Javier Balbuena to the anti-corruption unit of the Public Prosecutor's Office.
In case number 12.027/2016 Nicolás Russo denounced the official on a number of charges including malfeasance in office, breach of trust as well as the production of false documents and the destruction of the historical and cultural heritage of the city of Ciudad del Este.
The union claims that Balbuena announced the licensing process for a new casino and hotel without the prior approval of the Port Authority and encompasses other ministries within the government as they allowed for the approval of the terms and conditions for the public tender. The ANNP reject the use of the land as they argue that it violates Ports Law No. 1066/65, which prohibits via article 16 the use of commercial, financial, or industrial operations which are not in keeping with the port's main objective. They also claim that the concession of the 11-hectare site was carried out without the approval of the Board of the ANNP.
Charges were also filed against the President, who in March 2017 signed Decree 6865 approving the call for bids and authorised the Minister of Industry and Commerce, Gustavo Leite, to sign a contract with the winner. For this reason, Russo extended the complaint against both officials.
Meanwhile Case 430/2017 centred on the usurpation of authority and criminal association. These accusations were made against local mayor Sandra McLeod de Zacarías Irún as well as a number of ex city officials for approving ordinance 002/2015, which declared the property of the ANNP as an area for the building of a casino. However, the current prosecutor of criminal unit nine, Osmar Legal, confirmed that Prosecutor Analía Rodríguez had dismissed both cases, exempting all those accused from any liability.