By
Phil
- 27 October 2014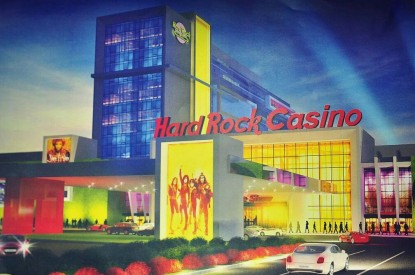 Hard Rock International has announced plans to install a casino and hotel in the city of Ciudad del Este in Paraguay.
The hotel will have 250 rooms while the casino will house 500 slot machines and 30 gaming tables. The decision to launch in Paraguay was, according to local press reports, made after a wide sweeping study was carried out by a team of local specialists who have provided advice on marketing, strategy as well as financial planning, government oversight and local gaming laws.
Director of casino development Nelson Parker said: "Hard Rock International is focused on expanding its gambling operations to South America, a region that is already familiar with the brand of cafe and hotel. We're excited to bring a destination for world-class entertainment to Ciudad del Este and collaborate with Latin America Gaming Group and the Government of Paraguay to establish a national regulatory framework, in accordance with the highest international standards."
The first Hard Rock Café to open in Paraguay will open its doors in the Hotel Guarani in November. Hard Rock International has a total of 190 venues in 58 countries, including 144 cafes, 21 hotels and 10 casinos. This will be the first Hard Rock casino in Paraguay and the first to open in South America. Cuidad del Este is the second largest city in Paraguay and the capital of the Alto Paraná Department. It is also Paraguay's second most popular tourist destination.
The news comes on the heels of another opening announced earlier this year in the city of Encarnación. The six million dollar hotel and casino will, according to local government officials, increase tourism to the city and coincides with a number of new hotel openings of late as the local tourist industry continues to improve.
Casinos have been permitted in Paraguay since 1997 and may be located in provinces with more than quarter of a million inhabitants with only one casino being permitted in capital Asuncion. The 1997 act also created a gaming commission called El Comisión Nacional de Juegos de Azar (CONAJZAR). Although casinos have been permitted now for almost fifteen years the casino industry remains underdeveloped with little foreign investment in the industry and illegal gaming has remained rampant.