By
Phil
- 22 February 2016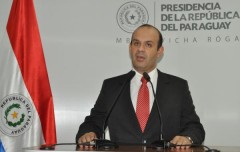 The Paraguayan Gaming Commission (CONAJZAR) has announced that it will increase its efforts to push for a bill that will make it an entirely autonomous body.
The aim of the new bill is to give CONAJZAR its own legal status, its own budget and full autonomy so that it will no longer be part of the Ministry of Finance. In April last year, CONAJZAR announced that the bill had already obtained the approval of the Executive branch.
Head of the gaming commission Javier Balbuena said that the body needed to improve the way it was managed and this could not be achieved unless laws were changed. With less than fifteen people the body is chronically understaffed and its budget is inadequate for state supervision of the gaming industry, according to Mr Balbuena. Neither does it have complete legal independence.
The new law also includes a number of other clauses which include the promotion of responsible gambling, as well as the prevention of problem gambling and new rules which would promote corporate responsibility within the industry.
Mr Balbuena went onto say that the current law dated back to 1997 and new types of games including online gaming and other technological advances in the industry are not covered by the old act. Meanwhile, licences for five to ten years may not be sufficiently long enough as it may discourage operators from taking part in licence tenders in the future.
Speaking during the ceremony to commemorate the "International Day for Responsible Gaming" which took place at the headquarters of The Lottery Association of Pools and State Casinos in Argentina (ALEA) Mr Balbuena said that the industry generated a 7.6 per cent increase in tax revenue in 2015 compared to the previous year. Gaming tax revenue is on the rise in Paraguay thanks to tougher measures and new online controls and stood at U$S18m at the end of 2015 – the highest for five years.