By
Phil
- 17 September 2014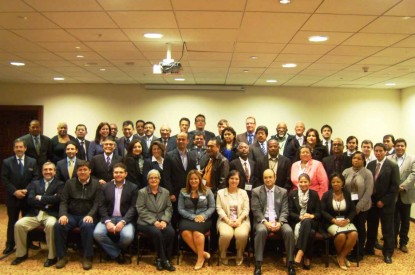 Gaming and Lottery regulators as well as State Lotteries from 16 countries across Latin America and the Caribbean gathered earlier this month for Gaming Laboratories International's (GLI) Latin American Regulators Roundtable.
The educational event was held in Lima, Peru and was the most successful Roundtable GLI has yet produced in the region.
GLI Director of Latin American Development Karen Sierra-Hughes said, "We were very pleased to welcome so many regulators and State Lotteries from so many countries, representing the diverse and exciting landscape that is the gaming and lottery industry in Latin America and the Caribbean."
In total, 53 representatives from across Latin America and the Caribbean were in attendance. Countries represented included Argentina, Brazil, Canada, Chile, Costa Rica, Dominican Republic, Guyana, Honduras, Jamaica, Mexico, Panama, Paraguay, Peru, St. Lucia, Trinidad and Tobago and the U.S. Virgin Islands.
Regulators were enriched by a program covering today's most relevant and pressing issues, presented by thought-leaders and experts from across the region and around the world. Topics included gaming and lottery license processes for land-based and iGaming operations; fraud, money-laundering and player protection; sports betting operations and their procurement processes; lottery profitability, risk management and growth challenges; interactive delivery systems; monitoring and control systems; and responsible gaming.
Attendees also enjoyed an onsite demonstration of the DGJCMT Peru's Regulators' Data Center, as well as an onsite demonstration of client server systems, as well as monitoring and control systems in a gaming hall in Lima.
"We are extremely grateful to our talented and knowledgeable speakers who came from around the world to participate in the Roundtable, and to share their valuable insights with the regulators who oversee the jurisdictions in this exciting and dynamic part of the global gaming industry, and with the State Lotteries that are thriving and looking to implement new technology in the Region. We are also very grateful to the DGJCMT of the Ministry of Foreign Trade and Tourism in Peru for so kindly opening their doors to us. We are also thankful to CIBELAE and all the countries in attendance for joining us this year. We are looking forward to our next Roundtable," Sierra-Hughes said.
Manuel San Roman Benavente, General Director of Casinos and Slot Machines, Peru Regulator said, "My special recognition to Gaming Laboratories International for the remarkable high attendance at the Regulators Roundtable. We have been honored and proud to be the host for this important event. It is necessary to recognise the efforts of the representatives from the 16 countries that attended and provided their experiences and expertise, which have enriched the development of the conference. The atmosphere of fraternity which prevailed at the Roundtable has shown us that our problems are common, and that solutions may also be common. I hope that the closeness that has arisen between us does not get lost, that it becomes stronger with a continuous exchange of information and experience, where it is up to GLI to offer the necessary platform to ensure opinions are shared by all."
Eric Ríos, Executive Secretary, Gaming Control Board, Panama said, "It was a very pleasant experience. The presentations were very helpful, especially because all the topics are of important and current interest. Likewise, the experience to meet other regulators in the region was very productive for me because I got to learn from their experience and advice."
The President, along with the Executive Director of Ibero-American Corporation of State Lotteries (CIBELAE), Luis Gama and Dr. Néstor Cotignola respectively, said, "It was a real honor to have representation in this prestigious event, as our members not only had the opportunity to learn about the latest trends in the gaming industry, but also it allowed closer ties and learn the idiosyncrasies of each of the regulatory entities from Latin America and the Caribbean who attended. We also appreciate the opportunity to present the CIBELAE's multi-jurisdictional lottery project during the conference. For all these reasons, we would like to extend our congratulations and our best wishes to continue organizing this type of events, giving priority to this sector that benefits the population."
Jack Shirley, Executive Director of the Jamaica Betting, Gaming & Lotteries Commission said, "Since my involvement in the gaming industry, I have found GLI to be a most resourceful, solutions-oriented and forward thinking partner. The most recently concluded GLI conference in Peru is a true testament of my experience to date with this company. The conference agenda was appropriate for the target market, including regulators. It allowed for the sharing and exposure of best practices between experienced players and those from emerging regions in an ever-evolving, technology-driven industry. The practical demonstration at one of the casinos of the host country was indeed a welcome bonus. I benefited immensely from the knowledge gained and the insight of where the industry is heading, and in particular, to have made the acquaintance with my regional and international counterparts was an invaluable additional resource, and it was indeed a great opportunity for networking. I look forward with great anticipation to the next conference for the BGLC's participation."
The two-day educational event was presented through GLI's world-renowned GLI University and was presented free of charge to regulators.
Next for GLI is the Global Gaming Expo in Las Vegas, where the company's entire Latin American and Caribbean team will be in attendance and ready to discuss all regulatory developments in the region. Later this year, GLI will produce its Argentinean Regulator's Seminar, which takes place November 10 in Buenos Aires, Argentina.