By
Phil
- 27 April 2020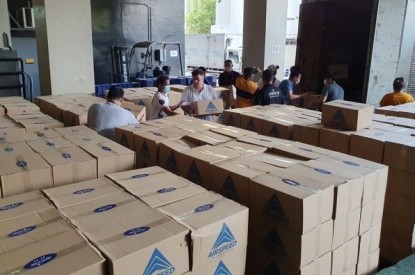 Aristocrat has partnered with City of Dreams Manila in the Philippines to donate 1,700 food packages to medical infrastructure sites to 10 hospitals and medical centers in Manila.
These food packages were distributed in the area of Paranaque in Manila to enable the community, staff, and families to have access to essential food ingredients, such as pasta, rice, canned fish and meat during the nation-wide lock down.. City of Dreams has also worked with local hospitals to provide medical supplies and food donations for medical staff throughout the crisis."
"We know this is a challenging and unsettling time for the local community of Paranaque and we wanted them to know that they are not alone, and together we will get through this," said Lloyd Robson, General Manager of Aristocrat in the Asia-Pacific. "We're committed to helping wherever we can, and this is just one way that Aristocrat is giving back to the communities in which we live and work."
The Australian slot giant said it had taken action to stand down around 1,000 staff, a quarter of its global workforce, until the end of June 2020 with the majority being in land-based sales, service and manufacturing operations, 'reflecting venue closures and uncertain reopening time frames.'
Another 200 roles will be made redundant, while 200 positions will move from full-time to part-time until the end of the financial year on 30 September 2020. In addition, until September the base salaries of around 1,500 staff will be cut by between 10 per cent and 20 per cent with directors facing a 20 per cent cut and CEO Trevor Croker to take a 30 per cent reduction on his alary.
Aristocrat said it anticipates a cost saving of around AU$100m (US$65m) by September 30 2020.
"We are very sensitive to the impact of necessary cost reduction measures on our people, and will work hard to support them through this difficult time consistent with our 'people first' approach," said Mr. Croker. "We believe that these changes will help maximise opportunities for Aristocrat's dedicated and talented people over the longer term. We will continue to do everything we can to restore momentum in our land-based business as quickly as possible recognising the importance of continuing to develop and deliver game content during this period. These changes, and other prudent steps we are taking as part of our COVID-19 response, will deliver important operational and financial flexibility, focus and efficiency through this period of uncertainty."