By
Phil
- 20 August 2018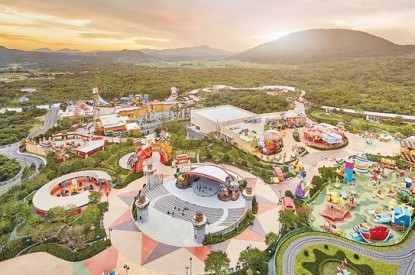 Despite Philippine President Duerte's declaration that no more casinos will open in the Philippines, Landing International has broken ground on NayonLanding, its Filipino-inspired iconic integrated leisure and entertainment resort at the Entertainment City in Barangay Tambo, City of Parañaque.
The groundbreaking ceremony was hosted by Dr. Yang Zhihui, Chairman and Executive Director of Landing International.
The Integrated Resort's name NayonLanding symbolises the rich culture and heritage of the Philippines landing in the Entertainment City. It will be built on a parcel of land approximately 95,700 sq.m. in size, with a planned construction floor area of approximately 610,000 sq.m. The development cost is estimated to be approximately US$1.5bn. The Integrated Resort will consist of an indoor cultural theme park and waterpark, Asia's first and largest indoor movie-based theme park. It will also offer approximately 1,500 luxury hotel rooms, a state-of-the-art convention centre with a 4,000-seater pillar-free grand ballroom fit for large-scale events and conference, a shopping mall with a variety of international brands, and a world-class casino operated by an internationally experienced casino management team. The Integrated Resort will be one of the country's newest leisure and entertainment hotspot when it is opened by 2022.
Dr. Yang commented: "We are building an iconic integrated resort that will highlight Manila as a modern global city with a rich history, culture and heritage, Nayonlanding will be a family-oriented resort that promises a distinctly different, must see / must experience culture, leisure and entertainment destination, capturing the hearts and minds of domestic and international visitors of all ages. When opened, the Integrated Resort will create up to 10,000 jobs and is expected to attract an additional 2 to 3 million foreign visitors to the country."
The groundbreaking ceremony came just a few weeks after President Duerte fired the whole board of directors at Landing's Philippines partner, Nayon Pilipino Foundation, for what he said was a 'grossly disadvantageous' land lease deal.
Landing said it was "still pushing through and its lease contract with NPF is still valid and effective."
"From the group's view point, the recent decision of the Philippine Government to replace members of the NPF board of trustees did not affect the validity of the subject contract of lease," Landing stated. "Landing International clarifies that the term of lease executed between NPF and Landing Resorts Philippines Development Corporation provided for in its executed contract of lease with NPF is for a period of 25 years only commencing from the date of execution of the contract of lease. Subject to and upon approval of Landing Philippines' application with the Tourism Infrastructure and Enterprise Zone Authority, the term of the lease shall be for a period of 50 years as provided for and specifically allowed by the Tourism Act of 2009 as an incentive to encourage foreign investments in the Philippines.
"Unless the lease contract is cancelled or nullified on solid legal grounds by the courts, Landing has reason to believe that it is a valid leaseholder and can legally proceed with its project."