By
Phil
- 18 October 2021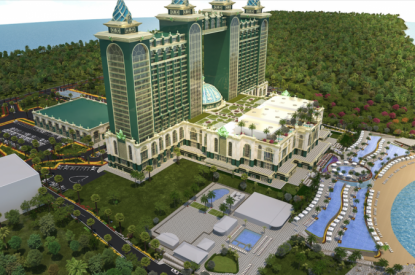 Philippine's operator PH Resorts Group has confirmed its new Cebu integrated resort Emerald Bay won't now open until the first quarter of 2023.
In a filing to the Philippine Stock Exchange, it said that 41 per centof the phase 1 part of the project was now complete.
It said: "We are working closely with primary design (Steelman Partners), project management (Tenman HK Limited) and construction (Terp Asia Construction Corporation) teams to ensure that phase 1 of Emerald Bay is completed and will commence full operations on budget and on track for the targeted opening in the first quarter of 2023."
Phase 1 will offer 4,154 square meters of gaming floor with 600 slot machines, 122 gaming tables and a 270-room five-star hotel. By 2027, Phase 2, will bring another 8,210 square meters of gaming floor, 729 slot machines, 146 gaming tables and a 780 room, five-star hotel.
The developer had been given permission from PAGCOR, the Philippines gaming regulator, to delay the development of The Base, a casino resort based in Clark so it can concentrate on its Emerald Bay Resort and Casino in Cebu.
The Base was due to open in 2022 with 600 electronic gaming machines, 100 gaming tables and 400 hotel rooms along with shops and restaurants.
PH Resorts said the decision to delay had been taken 'due to some lingering uncertainties surrounding the casino gaming industry, especially with more competition in the Clark, Pampanga location.'
The company said: "As present financial projections center on PH Resorts Group's plans for the Emerald Bay project, the voluntary suspension of CGLC's license will have no effect on current financial numbers. PH Resorts Group expects that the suspension will have little to no impact on business."