By
Phil
- 15 December 2014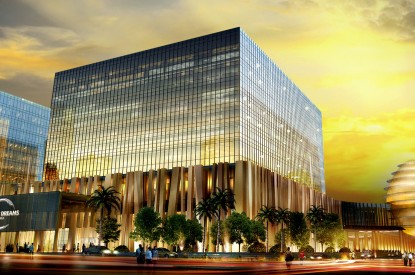 Melco Crown Entertainment has confirmed the soft opening of City of Dreams Manila has taken place whilst the grand opening ceremony will take place before the Lunar New Year.
Opening at a cost of US$1.3bn, the casino has 365 gaming tables, 1,680 slot machines, 1,680 electronic table games and around 946 hotel rooms in three hotels.
But the gaming floor will only constitute a part of the resort. The operator has teamed up with The Ault Group, the nightclub consulting firm led by the 'International King of Clubs', Michael Van Cleef Ault, bringing the world-renowned nightclub brands; Pangaea and Chaos, into the fast-growing Philippine market.
Renowned for pioneering the "Ultra-Lounge" concept in the 90's, Pangaea has become a staple for those familiar with its intimate and sophisticated club set. It's bespoke designed furniture and custom made dance tiers make this a club where every inch of the space is literally meant to be danced on.
Pangaea has hosted A-listers including Madonna, David Beckham, Steven Tyler, Cee-Lo Green,
Jessica Alba, Leonardo DiCaprio, Kate Moss, Will Smith, Jack Nicholson, powerful political figures and global billionaires.
Chaos is credited for being the world's first 'bottle service' night club. It has also firmly established itself as the greatest nightclub brand in history with New York Times Magazine declaring it "The Hottest Club in New York" when it opened in 1996 and quickly became a regular haunt for Hollywood and international celebrities alike. It earned similar bragging rights when it opened a year later in Miami's South Beach and São Paulo, Brazil.
"Following our recent announcements of other global entertainment brands, Melco Crown Philippines is introducing the internationally acclaimed nightclub brands Pangaea and Chaos to City of Dreams
Manila," said Clarence Chung, Chairman and President, Melco Crown (Philippines) Resorts Corporation.
"Introducing world-class clubs and a sophisticated international nightlife experience to City of Dreams
Manila reinforces our overall entertainment destination strategy, as envisioned by Mr. Lawrence Ho,
Co-Chairman and Chief Executive Officer of Melco Crown Entertainment Limited, and further enhances the regional and international leisure destination appeal of Manila.
"Inspired by Mr. Michael Van Cleef Ault, these establishments are two of the world's most recognized and successful nightclubs, and are destined to set the standards for exciting nightlife in Manila, with a clear focus on meeting the needs of the region's large and ever growing market of leisure and entertainment destination seekers."