By
Phil
- 7 October 2016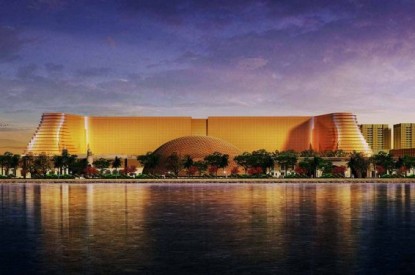 Japan's Universal Entertainment is delaying the opening of Okada Manila, its $2.4bn Manila casino, by a month to December due to bad weather, government policies and economic conditions.
The opening has been confirmed for December 21. Okada Manila will boast 993 hotel rooms, 8,409 square meters of retail space, 500 table games and over 3,000 electronic gaming positions.
The company's Philippine subsidiary, Tiger Resort, Leisure and Entertainment, said: "The initial opening of the property, including the hotel, food and beverage outlets, casino and other major attractions, will take place in December. Okada Manila has not markedly lagged behind the original plan although the progress has differed somewhat from the plan, affected by worse-than-expected weather conditions. I n view of policy actions by the Philippine government and the economic environment in the near-term, we are now in the process of carefully considering the optimal timing for opening the facility towards delivering maximised shareholder value.
The Series 2 notes are expected to be issued on Oct. 14, 2016. With the issuance of these Series 2 Notes, the company will have successfully secured a significant majority of the construction costs for the opening of Okada Manila, which is the world class gaming and leisure resort under development in the Philippines."
The first phase of the development was supposed to open in November. According to Tiger Resorts president Steve Wolstenholme, construction is 85 per cent complete.
The company, owned by Japanese pachinko boss Kazuo Okada, owns one of four licenses to operate a casino complex in Entertainment City.
Universal will finance $400m from the issuance of privately placed notes at 8.5 per cent per year under Series 2 notes. The operator said: "With the issuance of these notes, the company will have successfully secured a significant majority of the construction costs for the opening of Okada Manila."