By
Phil
- 4 December 2018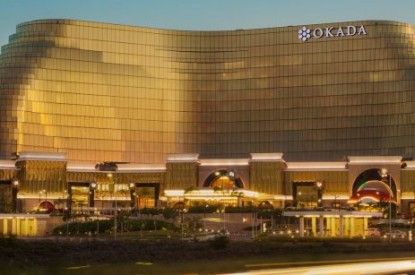 Fitch Ratings believes that Okada Manila, the Philippine Integrated Resort owned by Japan-based Universal Entertainment, could become one of the leading casinos in Asia issuing it with a Long-Term Foreign-Currency Issuer Default Rating (IDR) of 'B+' with a Stable Outlook.
Mass-market operations began in early 2017 and should benefit from the casino's dominant scale, with 500 tables and 3,000 slot machines upon completion, placing it ahead of local competitors. The IR generated GGR of JPY41bn in the first nine months of 2018, and EBITDA turned positive in 3Q18. The trend remained positive in October 2018 as the company reported GGR of JPY17bn and positive EBITDA.
Fitch said that Universal had a 'strong market position both in the casino business as the operator of the Okada Manila, the largest integrated casino resort (IR) in Manila's Entertainment City, and in its Japanese pachinko and pachislot business where it commands a leading market share.'
The casino, according to Fitch 'has good potential to establish itself as a leading integrated resort (IR).'
It explained that its rating was supported by 'moderate financial risk and sound liquidity' but was constrained by Universal's 'modest size, single-location focus and execution risk in the casino operations due to the lack of a track record in the junket and high-roller business lines.'
Fitch said that Universal 'faces headwinds in the pachinko and pachislot segment in light of the sector's long-term decline.'
"A further constraint is UE's corporate governance amid the ongoing dispute with its founder and former Chairman Kazuo Okada," it warned.
Fitch said: "We think Universal's growth plans for the casino business are ambitious and subject to material uncertainty. The Okada Manila has good potential to establish itself as a leading IR in Entertainment City thanks to its scale and high-end focus. The ramp-up is well under way and UE expects to complete the construction in 3Q19. Project risk is limited, even after accounting for potential delays and cost overruns, as most of the investment has been completed."
Fitch said it expects high single-digit gross gaming revenue (GGR) growth in the Philippines as a result of robust economic expansion. Increasing international tourist numbers are likely to boost junkets and ancillary revenue streams at high-end casinos. As the largest IR in Entertainment City, the Okada Manila is well-positioned to benefit from these positive dynamics.
It added: "Expansion plans for the business are however highly dependent on growth in junkets and high rollers, an area in which Universal does not have a track record. It will not only compete directly with established local competitors such as Solaire and City of Dreams, but also strong and experienced overseas rivals. As a result, there is limited earnings and cash flow visibility in these sub-segments and greater risk that actual performance may lag behind UE's growth targets.
"A number of projects are being evaluated, according to management, but any significant investment beyond the current scope would be done via partnerships," it added. "We therefore believe management is unlikely to take any steps that would threaten the company's operational or financial profile in terms of gross leverage, which we consider a more useful measure of indebtedness than net debt as the casino is still in the expansion phase."
Fitch believes growth in the pachislot and pachinko business will be modest and continue to exhibit volatility over the near term. "Performance in the segment has been affected by regulatory changes that led to a spike in demand ahead of their implementation in 2017," it explained. "The domestic pachinko and pachislot market is in a structural decline but Universal's competitive technology and leading market share should help the segment to recover and achieve stable, albeit low, growth and exhibit steady profitability, supported by replacement demand. However, we expect segmental margins to stay below historical averages in view of the downward pressure on pachinko hall operators' income as a result of declining player numbers and more stringent regulation. There is also limited visibility over the timing and the extent of this recovery."
It also warned of uncertainty due to the Philippine's political leaders. "Recent developments such as President Rodrigo Duterte's public criticism of gambling add an element of uncertainty and may lead to regulatory changes," he said. "However, Fitch does not expect such potential changes to be materially harmful to the casino sector."