By
Phil
- 29 October 2020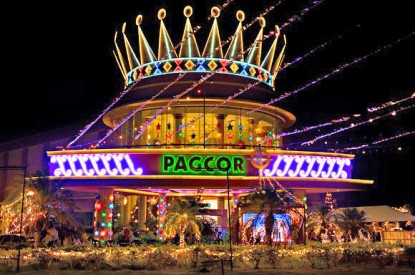 PAGCOR, the Philippines gaming regulator and casino operator, said it generated Php22.33bn (US$461.1m) during the first nine months of 2020, meaning COVID-19 wiped 60 per cent off the Php55.77bn (US$1.09bn) it generated from gaming last year.
The company actually recorded a profit Php137.2m (US$2.8m) although that was a substantial reduction on the profit generated in 2019 of Php4.97bn (US$97.5m).
Casinos in Manila's Entertainment City were only allowed to reopen towards the end of August with limitations on attendee of 30 per cent.
PAGCOR revealed that revenue from the Philippines licensed casinos, those not operated by PAGCOR, came in at Php8.44bn with POGOs generating Php3.76bn and junkets Php326.1m. Another PHP601.1m was generated from gambling-related services, and PHP4.87bn in other income, meaning PAGCOR's net gaming revenue came to PHP16.07bn, representing a decline of 45.3 per cent year-on-year.
PAGCOR gave PHP11.72bn to its government and Bureau of Internal Revenue, with PHP1.12bn coming from the five per cent franchise tax on licensees, and an additional PHP10.56bn coming from the 50 per cent tax on gambling operations. Another PHP45m was allocated to the country's Dangerous Drugs Board.
PAGCOR Chairman and CEO Andrea Domingo said: "We would have been doing very well but then COVID came, and somehow we have to take three steps back. But we're going to get back and provide funding for the government which is badly needed now The local gaming industry employs about 132,000 direct hires. It also generates many other economic activities and businesses like restaurants, hotels, malls in Integrated Resorts (IRs), services, transport and real estate. There will be more economic employment opportunities when other gaming stations and casinos open."
"Aside from our mandated contributions, we recently contributed P12 billion cash dividends to the National Treasury. We also gave P2.5 billion to the Office of the President (OP) to help the Department of Health purchase personal protective equipment (PPEs) and medical equipment they need to fight COVID. We likewise gave P12bn to the OP's Socio-Civic Projects Fund, a portion of which is being used to provide free medicines to government hospitals and military officials every month
During the shuttered summer months, PAGCOR intensified efforts to crackdown illegal online gambling can be traced way back on March 21, 2019 when PAGCOR entered into a mutual cooperation agreement with the Philippine National Police (PNP), National Bureau of Investigation (NBI), Bureau of Immigration (BI) and the Office of Cybercrime (OOC) under the Department of Justice (DOJ).
It said: "Because of the limitations of its charter, PAGCOR has no police powers. Hence, it could not arrest or prosecute illegal gambling operations. What it can do within the bounds of its charter is to regulate gaming entities, and ensure that revenues from such operations will be used for the benefit of the country. But because of the mutual cooperation agreement, PAGCOR, PNP, NBI and the DOJ's OOC formed an inter-agency council or Task Force that will handle intelligence gathering on illegal online gambling, centralized information sharing, intelligence operations, surveillance, raids, arrest and prosecution of illegal online gaming activities.
Just last March this year, PAGCOR initially released PH5m (out of the PH11.08m commitment) to DOJ-OOC for the procurement of information technology equipment for DOJ's Office of Cybercrime's Cyber Fusion Operations Center (OpCen). The center shall serve as the complaint and monitoring center of the inter-agency council against illegal online gaming or NOGOs.
The crackdown of illegal online gaming operations in Makati last May 5 was actually one of the results of this concerted inter-agency effort.
Further, even when the gaming industry operations were suspended during the enhanced community quarantine in Luzon, the government's anti-illegal gambling measures are not suspended.
Since the COVID-19 pandemic started early this year, PAGCOR has received an increase in reports on illegal online gambling being promoted through social media platforms like Facebook.
PAGCOR said: "To further strengthen the fight against unauthorized gambling activities, the state run -gaming regulator will ask for the assistance of the Bangko Sentral ng Pilipinas (BSP) and the Anti-Money Laundering Council (AMLC) to conduct investigation on banks, remittance services, and payment solutions used as fund conduits for these illegal operations.
"While illegal gambling per se is not among the predicate crimes of Money Laundering, frauds and swindling are. These are based on the act of taking bets from the public by falsely representing that they have a legitimate business, when in fact, they have no such authority."
The country's gaming regulator is likewise calling on Facebook to cooperate with PAGCOR and Philippine authorities to curtail fraudulent activities, which are promoted through their platform.