By
Phil
- 15 August 2014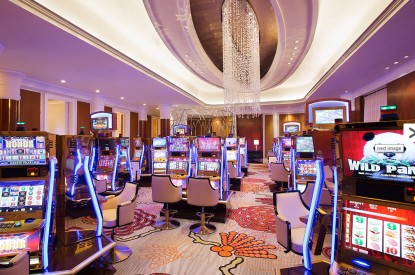 Bloomberry Resorts, owner of the Solaire Resorts and Casino, has confirmed it will double in size by the end of 2014.
Bloomberry President Thomas Arasi revealed that the operation will double its hotel room capacity and the size of its gaming facilities with a US$500m expansion. Net income in the second quarter increased by more than 37 times to P847m up from P23m a year earlier with GGR increasing 62 per cent to P6.77bn.
"We will more than double in size," Mr. Arasi explained. "We increase hotel rooms inventory in excess of 60 percent and increase our VIP gaming area by more than two-thirds and with several restaurants, we have a lot more meeting space," Arasi said. Other non-gaming facilities under the first phase of the expansion are 5,000 square meters of retail area, a 1,800-seat Broadway-style theater, an expansive night club and a karaoke bar.
He believes that the opening of new gaming facilities in Entertainment City would take the Philippines into the top five most popular high-end integrated resort in the world behind Macau, Las Vegas and Atlantic City.
"When City of Dreams Manila opens, there will be of course short-term competition. But medium-term and long-term, the Philippines' gaming market and the Entertainment City are going to be stronger, appeal to more people and have more products and services by the fact that there will be three of us here."
The casino is also preparing for the World Poker Tour's first ever WPT National Philippines Event, which takes place off at Solaire Resort and Casino from October. 16 to 28.
WPT president Adam Pliska said: "The World Poker Tour continues to expand across the globe, especially in Asia where the growth is phenomenal. The Philippines represents what we want poker to evolve to be. It's a very warm and welcoming place and with a first-class venue like Solaire, both local and foreign players will have a great time on and off the felt."
Mr. Arasi added:"We are constantly creating ways for our guests to have the ultimate resort experience so hosting the largest and most recognizable poker tour in the world only comes naturally for us. Solaire is about creating moments and WPT is going to provide many powerful moments for everyone involved."
"The Philippines has always been the hub for this region, whether it's for travel, trade or culture so it just makes complete sense to have an international event in a country that has so much to offer than any other destination in Asia," said promoter Mike Kim.
Between 600 to 800 players for the Main Event with a total pot estimated at $1.6m.