By
Phil
- 9 September 2020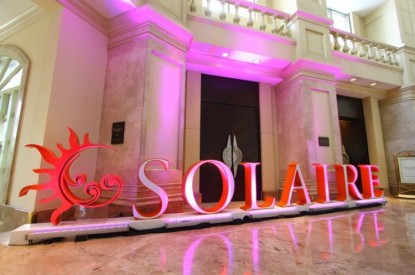 Bloomberry has confirmed that its Solaire Resort & Casino is launching a 'phasing plan' that will see it boost its visitation levels from the current 30 per cent with protocols in social distancing and safety.
It began operating at 30 per cent capacity last month but has outlined how its workforce will be educating customers alongside 'new normal guest journey videos' which will be shown on screens throughout the casino.
Staff will undergo antibody and PCR testing and will need to complete daily Health Declaration Forms, wear mandatory face masks, adhere to strict temperature checks and pas through disinfectant chambers.
Solaire President and COO Thomas Arasi said: "We continue to strive to go above and beyond the norms to provide the excellence, quality and genuine service that we have become known for. As we move towards a 'new' way of traveling and finding leisure, we want our guests to be confident and assured when they stay with us at Solaire.
"We fully understand the deep concerns on cleanliness, sanitation and even social distancing. We have taken the necessary steps to address these and implemented changes to our procedures to safeguard everyone's well-being. The health and safety of our guests and team members remain to be our utmost priority," he added.
Enrique K. Razon Jr. Bloomberry Chairman and Chief Executive Officer, added: "This pandemic has presented us with new challenges that we must take head-on with all the courage and determination we can muster. At Bloomberry, we believe that challenges are opportunities to improve ourselves—and therefore, we have taken on and powered through many other trials in the past.
"Our team members, the driving force behind our success so far —heroes in their own ways— continue to work tirelessly, whether on property or from their homes, to make sure that the company's limited operations run smoothly. Despite the current situation, we are making sure that the over 100 long-stay guests at Solaire receive services that are on par with our five-star reputation.
"At this time, the health and safety of our team members and guests are our top priority. We continue to enforce strict social distancing rules for both team members and guests on property while providing proper hygiene paraphernalia and enhanced cleaning protocols. Back of house employees are also encouraged to work from home.
"One of the many reasons we generate revenue is to be able to give back to our community. We believe that the current situation calls us to give back more than what is legally required as we play our role in flattening the curve," he added.
"The Bloomberry Cultural Foundation (BCFI), our Corporate Social Responsibility arm under Bloomberry Resorts & Hotels, Inc., has been active in providing assistance to government efforts to fight the COVID-19 pandemic. It has procured medical supplies and personal protective equipment (PPE), retrofitted facilities to become treatment facilities, and distributed relief goods and supplies. To date, BCFI has donated over P600m for these efforts. It goes to show that to be able to thrive in challenging times, we must focus on helping each other by selflessly sharing our strengths.
All of us have different, but equally important roles to play. Let us move forward, united in the goal of defeating this virus. Instead of looking at the future with uncertainty, let us think about the new possibilities that comes after overcoming this pandemic."