By
Phil
- 9 April 2018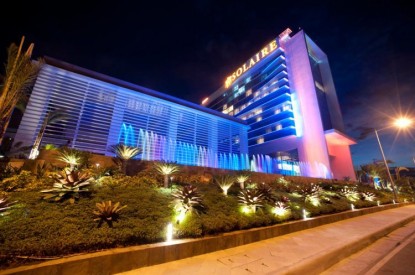 Bloomberry, the Philippine group behind the Solaire casino resort in Manila Bay's Entertainment City has reported all-time highs with the property's VIP volumes growing 11 per cent while mass table drop and electronic gaming machine (EGM) coin-in grew 21 per cent and 29 per cent over 2017.
Gross gaming revenues grew 17 per cent to a new high of P44.927bn while non-gaming revenues increased by 40 per cent to also hit a record P3.335bn.
The company reported all-time high records in VIP volume, mass table drop and EGM coin-in, gross gaming and nongaming revenues. New profitability records were also achieved with the highest levels of EBITDA (both reported and hold-normalized) and net profits reported since Solaire's opening in March 2013.
Enrique K. Razon Jr., Bloomberry chairman and CEO, said: "Going into our fifth year of operation has become even more exciting with our 2017 results in sync with the growth trajectories we have aimed for. This is largely due to our top notch management team and the thousands of Bloomberry and Solaire men and women, whose tireless drive and dedication keep us notches ahead."
For the quarter ended December 31, 2017, Solaire posted a new record high for mass table drop with a slight sequential gain. Philippine VIP volumes were up 17 per cent year-on-year while mass table drop and EGM coin-in both grew 19 per cent and 23 per cent year-on-year, respectively. On a sequential basis, VIP volumes were up seven per cent while mass tables were essentially flat. EGM coinin was not able to beat its previous P49.690 billion record in the previous quarter and fell 4% quarter-on-quarter. Solaire's gross gaming revenues were down 11% quarter-on-quarter and 2% year-on-year to P10.27bn.
Bloomberry generated P98m in net profits in 4Q2017, dragged down by a low 1.95 per cent VIP hold, some one-off non-cash expenses relating to the depreciation of a transportation asset and unrealized foreign exchange losses as well as a P267m net loss from its Korea operations. The Philippine operations would have generated P1.654bn in net profits assuming the VIP hold at the normal 2.85 per cent rate and would have increased by another P451m to P2.105bn without the one-time depreciation write-off (P150 million) and unrealized foreign exchange losses (P301m).