By
Phil
- 13 August 2018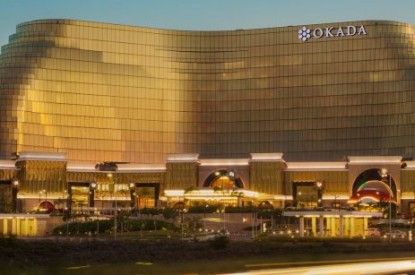 Universal Entertainment Group will float Tiger Resort, Leisure and Entertainment Inc. (TRLEI), the company behind its Okada Manila in the Philippines, next year, as it looks to speed up growth and raise its brand.
The decision was confirmed briefly in Universal's latest set of results which saw first half profits increase to JPY 172.5bn(US$1.6bn) up from JPY 6.6bn from the same period a year earlier.
Universal stated: "The Universal Entertainment Group is preparing to take public Tiger Resort, Leisure and Entertainment, Inc., the core company in the Group's Casino Resort Business, in 2019 to accelerate its growth and raise its name recognition. Details will be disclosed as soon as they are finalised."
The resort announced that its operating loss increased 202m yen mainly due to an increase of depreciation.
Universal stated: "Total sales at Okada Manila, led by the gaming business in the Manila Bay region of the Philippines, continue to increase and this casino and resort has already become profitable in terms of its quarterly EBITDA. Sales in this business surpassed the initial forecast with gaming operations for the mass market and for VIPs which are the primary source of the company's sales growth. The volume of the mass market has been climbing steadily and the official opening of junkets promoters have started contributing to growth in VIP gaming sales."
The resort already features the world's largest multi-colour fountains and Cove Manila, an all-weather dome that has Southeast Asia's largest nightclub and beach club. Now, the resort has added the Maharlika Club which is a gaming area exclusively for premium Filipino players, a high-end resort spa called The Spa Retreat and an outdoor swimming pool that overlooks Manila Bay. "These additions reinforce Okada Manila's position as the only fully integrated resort in Asia," the company added. "To increase earnings from the mass market, there will be more non-gaming facilities and services that match customers' needs. In the VIP casino, operations are benefiting from the full-scale operations of current junkets. In addition, Okada Manila plans to start initiatives to attract an even larger number of VIPs from other countries. Plans include strengthening the international marketing, opening sales offices in strategic countries, and adding and enhancing amenities that position Okada Manila as an integrated resort."
Universal's Pachislot and Pachinko Business posted net sales of 23,928m yen and an operating profit of 1,018m yen in the first half of 2018. The company said that due to the wait for new laws to come into play, pachinko hall operators have adopted a 'cautious stance about purchasing new machines due to the uncertain outlook for the business climate because of the enactment of the new rules.'
It added: "In this difficult environment, Universal Entertainment started full-scale Pachinko machine sales activities in 2018 centered on core titles that are popular across a broad range of users. In May, sales started for CR Million God Descent, the latest addition to the God series of machines that is still extremely popular. In the Pachislot category, sales of three new titles started during the second quarter of 2018. In April, Universal Entertainment launched "SLOT Packman," the first Pachislot title resulting from the Family Slot collaboration with BANDAI NAMCO Entertainment Inc., a major producer of games. In May, sales started for "Yurusepone," the first spin-off of the God series. In June, "Oki-Doki! Vacation," the latest member of the Oki-Doki! series, was launched."