By
Lewis
- 29 July 2020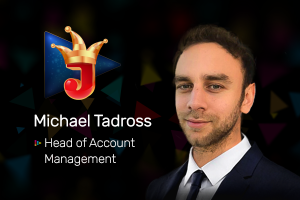 Continuing our series of features on player engagement and retention, G3 Newswire spoke to Michael Tadross, Head of Account Management at Playson. We learn about the developer's array of promotional tools, including its popular Network Jackpots, and discuss what the future holds for player engagement.
Could you tell us more about Network Jackpots?
The Network Jackpot promotional tool is essentially an enhancement and expansion of our pre-existing Jackpot tool. The unique feature to Playson's Jackpots is that it allows mystery payouts which are generated at random.
Players don't need to land on specific symbols or combinations to win prizes in the Jackpot games. This creates an equal opportunity for every player to win the Jackpot and adds an additional level of excitement to their game.
Not only is it fun for players, it is a great tool for operators. It drives up sell while helping maintain the loyalty of the audience and is useful for controlling promotional budget. Playson's Jackpot promotional tool has flexible configurations which allow operators to set up qualification criteria and fund contributions to the general pool.
How do you measure loyalty?
Play session length is the key indicator for loyalty. It is crucial not only for operators, but for suppliers as well. For slot providers, it gives an overview of how successful a game release has been. This figure, along with other statistical analysis, is what operators consider when deciding on which games to promote in their lobbies.
There are some games which don't do as well as others on release, or perhaps get forgotten after a time due to countless new games hitting the market. Using engagement tools such as Jackpots can help reinvigorate a game, adding an extra edge to the gameplay, and increasing its popularity.
The gambling sector is such a competitive market right now with dozens of slots released each month. Even the most popular games which bring in the most revenue gradually lose their share of players as new innovations enter the sector. Jackpot tools are a simple and effective way to help bring that audience back.
What KPIs constitute success and failure with a new engagement tool such as Network Jackpots?
For the game supplier it will be the number of operators who use this tool and positive ROI of each Network Jackpot promotion. Basically, it all comes down to return on investment into development cost. We've noticed that our Network Jackpots, along with our other promotional tools, such as Seamless Play, Free Spins, and regular Tournaments with daily prize drops, have all been popular with our operator partners.
How can engagement tools target both casual and experienced players?
We gather feedback from our partners and look at analytics data of players' behaviour. This helps us come up with the qualification criteria which will work for all types of players. For example, our Tournaments promotional feature has several mechanics which count only the multiplier won by a player. This results in equal chances for both high-rollers and those playing just for fun. It does not matter whether the player's bet was 0.20 EUR per spin or 10 EUR per spin.
What market research does Playson undertake to ensure its engagement tools cater to different player demands across multiple regions?
We create products which aim to increase our partners revenue, and endeavour to listen to their feedback. It's also important we provide various configuration options in our products, meaning they can be tailored to the needs of the customer.
Information is also gathered on players' behaviour based on various criteria: geo-region, country, or specific partner data and game preference, as well as competitors research as well. Before rolling out the official version of the promotional tool we agree on a demo-test with our partner. This helps us to predict whether the project will be successful when scaled up or not.
What technology is available to tailor engagement tools for individual players?
There are lots of configuration options for all Playson's promotional tools and we recently renewed our back-office tool, PlayBox. As with all Playson products, we aim to enhance UI and UX, simplifying the usage, yet keeping all the necessary information in the tool. All our customers are granted access there, but the account can be managed by the Account Manager if the customer so desires.
PlayBox provides various reports on performance and players statistics, allows customer to set any type of promotional campaign using any Playson promotional tool – all of which are available out of the box. It also provides RTP monitoring reports and general games configurations to comply with the jurisdiction Playson is certified in.
In the promotional tools section of PlayBox, partners are able to set up a range of games to target a specific audience. They can also select the type of tools they want to use such as Tournaments and Jackpots. The qualification criteria can be the number of spins or the size of the bet for example. Afterwards you select the type of mechanics which suits best for your audience.
And let's not forget the financial benefit. Operators can set the ranges or sums of prizes or substitute them with other promotional tool gifts, such as Free Spins or the Feature trigger to keep games fresh.
What is the future for promotional features? What innovations should players and operators look out for?
The most important element in the success of engagement tools is delivering a personalised experience. Our game designers believe that gamification is not currently being used to its full potential in gambling.
Gamification can be used everywhere and in the same way that the videogames sector incorporates immersive gameplay; I believe we will see gamification becoming a more prominent part of the promotional experience in the years to come.