By
Phil
- 8 October 2015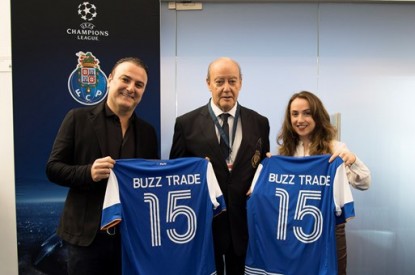 Online financial trading platform BuzzTrade (www.buzztrade.com) has signed a two-year deal with FC Porto to become the club's official online trading partner.
The agreement secures BuzzTrade a significant branding presence at the stadium on LED hoardings, media boards, and in hospitality areas.
It will also benefit from premium space and visibility on the prestigious club's website and social media channels, as well as gaining exclusive image rights and player and stadium access during the season. BuzzTrade's traders will have the opportunity to win tickets and hospitality at the club's Estádio do Dragão as well as club merchandise and chances to tour with the club.
BuzzTrade is an industry leader in online binary options trading, which offers its customers a unique and secure EU regulated trading experience.
BuzzTrade CEO, Tamar Schoppik: "This is a fantastic opportunity for BuzzTrade to partner with one of Europe's largest football clubs. They have great heritage and a history of success on and off the pitch. FC Porto's global fan base will enable BuzzTrade to introduce our innovative trading products to new audiences, who will be able to enjoy our user-friendly trading environment."
"This partnership with BuzzTrade is the first of its kind for FC Porto and reflects our ambition and appeal as a global brand," said Adelino Caldeira, Vice President of FC Porto. – "BuzzTrade is the perfect partner for FC Porto – it is an innovative, vibrant company that shares our commitment to quality and thirst for success."
The deal is the first time that 27-time Portuguese champions FC Porto has had an online trading partner.
Mark Cowan, owner of Entourage Sports and Entertainment, who brokered the deal, commented "This is a special partnership, bringing together a new and exciting platform in BuzzTrade, with the long-standing and traditional establishment of FC Porto. We are proud to have been responsible for this deal and it illustrates the growing relationship between FX and binary options trading companies and top sporting institutions."