By
Lewis
- 26 June 2019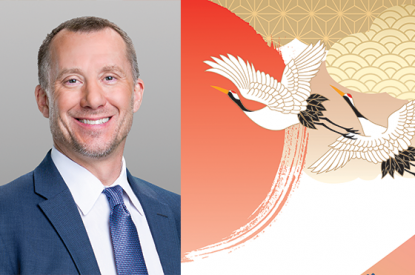 AG Burnett, Partner, Gaming and Administrative Law Group, McDonald Carano, former Chairman of the Nevada Gaming Control Board, speaks exclusively to G3 about the challenges facing operators relishing the prospect of an IR operation in Japan
Everyone in the gaming industry is watching Japan. Cities in Japan are pushing to win integrated casino resort gaming approvals, and gaming operators are working hard to join them. The excitement has extended to lending institutions, construction companies, and entertainment companies as well, since the potential gaming market in this country of over 128 million people. The numbers reveal why this excitement is justified.
Of those 128 million people, almost 78 per cent are over the age of 25. Nearly 92 per cent of the population lives in major urban areas, such as Tokyo, and in this highly-educated society there is a low level (3.6 per cent) of unemployment, and the poverty line hovers at around 16 per cent.
Further, the government, a parliamentary constitutional monarchy, is very stable and well-organised. I suspect that the Japanese will create a well-regulated and successful gaming industry. While I was Chairman of the Nevada Gaming Control Board, and I am sure after that, many members of the Japanese government and prefects came to Nevada to study gaming regulation. Members of the Diet, dignitaries from many of the prefectures, and other government representatives all seemed very keen and studious when they met with GCB officials. Their questions were always very thoughtful and considerate; it was readily apparent that they were going to do things only after a cautious and deliberative approach. The fact that they were collectively taking part in this process several years ago, when gaming would still not be realised for several years (Osaka wishes to begin casino operations concurrent with the World Expo in 2025, for example) speaks highly of this very thoughtful approach.
The advent of integrated casino resorts in Japan will herald a new era for entertainment and tourism there. With that, however, there are some new risk areas for the regulators and the government to consider.
Overall, Japan is an incredibly safe country with an incredibly good infrastructure. Japan's national security budget, administered by the Ministry of Defense, is under one per cent of its GDP. This small budget, limited for historical reasons, stands at around 120th in the entire world. Since it is situated near China, Russia, and the Koreas, various potential tension areas sit nearby, but on the whole the country remains safely situated. Should tensions between Taiwan and China rise, or issues with North Korea become more concrete in a military sense, tourism and even the safety of the Japanese islands could be at risk. There have been recent times where even the relationship between Russia and Japan has grown tense because of disputed territories in the north. That said, things should hopefully remain calm from that standpoint.
As far as terrorism, Japan is not a high-risk locale. The country experiences little to no terrorism, and has a low crime rate. Years ago, probably the most well-known terrorist group, Aum Shinrikyo (otherwise known as "AUM") made headlines, but its attempts to undermine the Japanese government have fallen short of their goals.
There are potentially other risk areas to consider, such as the always-present risks at any integrated resort, of everything from crowd control to natural disaster and technological concerns.
Any time large groups of people gather, there is the potential for chaos. The unfortunate events of October 1, 2017 at the Route 91 Harvest music festival in Las Vegas proved that even in the least-suspected risk areas, tragedies can occur. It also proved that communications between all stakeholders is incredibly important. Japan has a strong set of gun control regulations that have led the nation to a yearly gun-death rate of only about 10, compared to other countries that have far higher, sadder statistics. Again, historical reasons account for this, but on the whole it is entirely more difficult for a Japanese citizen to obtain a gun than in America (mental-health evaluations, written tests, and background checks that must be taken periodically are the standard). When gun owners die, their guns must be surrendered, and there is a limit on gun stores located within each prefecture. Further, Japanese citizens can only buy certain types of guns, such as shotguns, and cannot buy handguns.
That does not mean the risks from firearms are zero, however, so integrated resort operations will have to work with Japanese law enforcement officials, much like they do in the United States, to ensure the safety of patrons and visitors to resorts. Any time casinos, hotels, shopping, dining and entertainment are mixed within one integrated location, there stands the possibility of some form of chaos. American gaming operators, for better or for worse, are well-experienced in ensuring the safety of large groups of people on their premises. So even with an extremely low likelihood of terrorism or gun violence, integrated resort operators will best serve themselves in Japan by adhering to the strong standards and best practices they've developed elsewhere.
Perhaps the greatest risk, however, will not come from humans at all.
Japan's islands are sadly susceptible to earthquakes. Sitting right on subduction zones pulling Japan eastward from the Chinese and Korean mainland on four tectonic plates, the country's location on a disturbing volcanic zone known as the Pacific Ring of Fire has caused nearly constant shaking and shifting. In fact, nearly one out of every 10 earthquakes worldwide occurs in Japan—the country suffers from nearly 1,500 earthquakes every year. And of course, with seabed earthquakes come the incredibly devastating potential for tsunamis. Any coastally-situated integrated resort must therefore be concerned with both earthquakes and tsunamis.
As a result of this concern, the Japanese government has a very strong seismic monitoring agency, the Japan Meteorological Society, and has instituted strong anti-earthquake construction and public safety requirements. Japan's "shindo scale," used to measure earthquakes, tops out at a level 10 (quakes five and above can destroy infrastructure such as buildings, roads, and gas and water pipes).
Japanese seismic and tsunami detection sensors alert government data monitors, who in turn release advisories and early warnings to law enforcement, first responders, and the public. Police, infrastructure handlers such as telephone, coast guard, and various other institutions can be immediately alerted. The public can receive alerts via mobile networks such as emergency emails, Apps, TV and radio.
The process is fully automatic. An earthquake early warning can be sent immediately, and a tsunami advisory can be sent within three minutes thereafter. Since tsunamis do not strike immediately after an earthquake, updates can be delivered within every 15 minutes, along with qualitative descriptions of size and scope. Estimates of tsunami heights and arrival times can be given via coastal tsunami meters and offshore meters using GPS buoys and ocean-bottom sensors.
On March 11, 2011, a level 9.1 earthquake hit Japan near the east coast of Tohuku, killing nearly 16,000 people. The earthquake famously damaged regional infrastructure, including four major nuclear reactors.
Of course, any integrated resort built in the early 2020's will have cutting-edge earthquake withstanding capabilities. It may be that resorts must create "safe zones" within resort buildings where patrons and staff can essentially flee during a catastrophic event. Japanese citizens are trained in earthquake survival, but guests from outside the country may not be.
Casino operators will also have to hone their mass-crowd control skills such that when opened, integrated resorts are safe not only from a construction basis, but also in terms of ingress (of emergency management and first responders) and egress (of patrons and employees). It will be a chaotic situation in a large, crowded space if hundreds of cellphones go off with earthquake or tsunami alerts at the same time.
There may come guidance in the lessons learned by Southern gaming operators during the Hurricane Katrina disaster, and also recent large-scale storms that have occurred in Macau. Water supplies for guests and even employees can be critical stock during such events, not to mention back-up energy supplies such as generators. As nearly self-contained cities in and of themselves, integrated resorts should be well-prepared in terms of not only storehouses of good and supplies in such an event, but also in terms of training employees and building design.
Also, immediate chaotic events will call for training of staff on how to handle emergent situations. It would be assumed that gaming regulators, law enforcement, emergency medical staff, and others should all have a table in these discussions and planning sessions.
Other risks that American gaming operators are confronting will be encountered in Japan as well. Obviously gaming devices must be tested and assured to be risk-free in terms of cheating and operational breakdowns. Any time credit cards and patron information is being obtained and potentially stored, even if not for reward card purposes, such data must be protected. Electronic payments and related payment processing security standards must be high, especially in a nation as highly technologically advanced as Japan. Therefore, data protection will be paramount, along with safely storing data in secure, disaster-resistant locations.
These are just some of the concerns that integrated resort operators should consider when and if they are lucky enough to do business in Japan. Because of the extremely well organised nature of Japanese government and society, and the very stable economy and infrastructure, these businesses should likely thrive. Casino operators, much like any business, must still be on guard and be prepared to handle any unexpected risks and issues that arise. The gaming regulators can play an important role in this as well.