By
Lewis
- 14 September 2020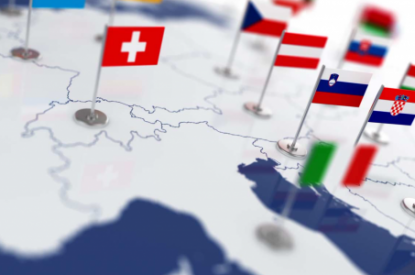 Supporting its members during the pandemic has been the greatest challenge the European Casino Association has ever faced. Chairman Per Jaldung and Secretary General, Hermann Pamminger, explain how the 900-strong European Casino Association has come together to address the challenges of the COVID-19 crisis.
Back in March 2020, one European country after another went into lockdown to address the threat imposed by the spreading of the Coronavirus. Basically, every business that was not considered to be essential for daily life had to close down.
Among them, all land-based casino operations. Within a few weeks, the lights went out in all 900 licensed landbased casinos that are members of the European Casino Association (ECA). Over 70,000 casino employees were sent home. Not since WWII has such a massive closure of entertainment facilities taken place. Fortunately, the European nations quickly came up with programmes to assist businesses, keep people employed, and keep the economy afloat. Casino companies and casino employees were also able to benefit from these programmes. However, their extent varied greatly from country to country.
Casino employees and management were faced with completely new challenges for which there were no manuals or checklists. How do you ensure business continuity in a time without business? And how do you achieve this when the duration of the lockdown was unclear?
Supporting its members in coping with this unfolding crisis became the greatest challenge that the ECA had faced to date. In March, a board meeting to address the crisis was held via video conference. The discussion revealed that the timely exchange of information and experiences about planned and implemented measures would be key.
The Board led by chairman Per Jaldung immediately put Secretary General Hermann Pamminger in charge of the association's activity push. Mr. Pamminger, together with the ECA Communication Officer Susanna Brozzu, responded quickly by implementing chat groups to speed up the exchange of information among casino managers. This enabled them to quickly post questions, provide timely information about different developments and exchange local media reports. Minimising the risk of a permanent closure of casino operations became a top priority. However, it was also clear that the situation was becoming increasingly challenging for those land-based casinos that had already been struggling prior to the crisis.
To assist its members in overcoming the crisis, the ECA immediately initiated a bundle of measures. These included the introduction of internet-based video conferences, in which the participants could exchange information on current developments live and discuss pressing problems with their industry colleagues.
Solving some of the questions raised in these video conferences clearly required external expertise, and the ECA therefore arranged a series of webinars with external experts. Fast and efficient web surveys were likewise organised to help members address and contend Coronavirus measures taken by their government and regulators affecting their casinos.
Throughout the entire period, the ECA team conducted corresponding research and compiled and distributed information on best practice regarding hygiene products, measures, and a range of other post-lockdown challenges facing reopening businesses in the tourism and leisure industry.
The exchange among ECA members became really intense when the first casinos in Europe were allowed to reopen their doors. Questions abounded. How would guests react to the numerous hygiene measures? Which gambling products were now in demand and which were not? Had gambling habits and behaviour changed? Would guests return at all or had they become loyal customers of online gambling websites in the meantime?
On May 6, the time had finally come, and Casino Sopron in Hungary was one of the first casinos in Europe that was allowed to reopen its doors. Shortly afterwards, the ECA organised a web conference for its members to facilitate the exchange of first-hand experience with reopening.
All activities had only one purpose; to keep customers and staff safe in the casinos, while getting the wheels to start turning again. In the weeks that followed, casinos were gradually allowed to reopen in a number of European countries. In others, the reopening date took (or is taking) longer to arrive – much to the disadvantage of the desperate operators. In the UK, for example, casinos were not allowed to reopen until August 15, while in Sweden, casinos still remain closed.
The economic consequences of the COVID-19 crisis for the European casino industry are enormous, and its long-term effects cannot yet be fully assessed. Revenues in the majority of European casinos in 2020 are likely to decline by between 30 per cent and 60 per cent compared to 2019. For some individual casino operations that were already confronted with economic challenges before the Coronavirus, the crisis may mean the end.
Securing the continued existence of casino operations throughout Europe now requires a joint effort on the part of employees, management, owners, suppliers, regulators, and governments – all of whom have a role to play in ensuring that their local casinos can continue down their previously successful path and overcome the major challenges they currently face.
The closure of the European casino operations has had an economic impact not only on their own employees and shareholders, but also on entire regions and cities. Casinos are part of Europe's cultural heritage; many of them are located in historical buildings and have a long traditions. They are important tourist attractions that generate a high level of added regional economic value.
European land-based casinos do not focus solely on gambling, they are also popular dining venues and offer a wide range of other entertainment options. Some casinos are major event organisers in their respective regions. Last but not least, they are also important employers, since the nature of the high level of personal service required makes operating a casino a particularly labour- intensive business. Only now are many politicians coming to realise the economic benefits of land-based casinos for a region and how many more jobs they create than online offers.
The ECA is convinced that the European casino industry will emerge from this crisis stronger and more confident than ever before. Casinos are part of our cultural heritage, they are social places and entertainment venues, they are personal and service-oriented, they provide gambling in a responsible and safe way in line with their national license requirements and they certainly take care of their guests – thus ensuring that gambling remains what it is supposed to be, namely a fun pastime.