By
Lewis
- 8 April 2020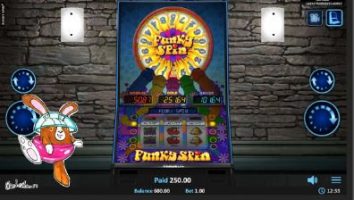 As part of G3's ongoing games development series, we speak to Christian Riley, Games Development Manager at Realistic Games, about the company's games philosophy.
Could you outline your background in game design?
It's not your average story! I have always been an avid slot fan and spent a lot of time playing fruit machines over the years, but hadn't considered a career in the industry until I was introduced to Realistic Games over 14 years ago. I'd known the founding directors and owners for a long time and when they offered me a position at the company, it seemed like the perfect fit.
I guess you could say I'm a self-taught programmer, going back to the days spent developing computer games in my bedroom as a kid, and at Realistic I get to combine those two passions in my day to day working life.
Who do you admire in terms of great design and where do you seek your inspiration?
There is such talent in our industry that you never have to look far to find a game you wish you developed yourself! As a slot player, I'm a big fan of Quickspin, who always seems to go the extra mile in delivering games that tick all the boxes. There's plenty of influence outside the sector too, particularly in film, video games and everyday culture and sometimes your inspiration comes when you least expect it.
Starting from a blank canvas, how and where do you begin the creative process?
It depends on the idea. For some titles the math model comes first, and we then build the theme and visuals around the mechanics, but for others that process is in reverse. From a blank canvas, we throw it open to the team and brainstorm between the artists, the audio engineers and the developers. It's a bit like song writing in a way – what comes first the lyrics or the chords? Once we've defined the initial concept the next stages of development are more structured, but there's close collaboration throughout.
Do you set out to create a game for a specific demographic or do you fit the game to the audience closer to completion? And how do you go about targeting specific demographics through the mechanics of a game?
Our approach differs from title to title. This year we have released a series of bingo-facing games appealing to demographics steeped in landbased bingo halls and amusement arcades. These titles, such as our recent release Funky Spin, have a simple and easily accessible style of play that are designed with a specific audience in mind. For a bigger 5-reel production, typically we look at general market trends and globally popular mechanics in the initial stages. Having been in the business so long, we know what games are successful with different operators and their typical audience demographic.
Is there a Realistic Games house style? How would you describe the design signature of Realistic?
Our portfolio has a strong retro feel, with many of our games developed in an arcade style. Our early flash games were all presented in cabinets to give the look and feel of a traditional casino environment. As market trends shifted, we moved away from that design with our page games to broaden the appeal of our portfolio. This year, however, we have revisited presenting games in cabinets with our WebGL framework, offering a toggle view that gives the player the option to zoom in on the reels to suit multiple playing styles.
What are the most important elements in creating an appealing game?
Playability is absolutely crucial. There is a tendency in the industry to release flashy new titles that look great, but compromise on the gaming experience. Nailing down the underlying maths is incredibly important to creating a title that keeps players returning, with features that ensure the action is consistent throughout a playing session. For me, the balance between the maths and the art is about 60/40. A game's visual aspects establish the initial impression both with the player and the casino manager, so it is important that the artwork and graphics are of a high standard.
In such a vast pool of content, it is the visuals that gain immediate attention and the mechanics which keep players returning. Market preferences skew the balance slightly, as certain aspects will be more important to the game's overall success than others depending on the country. In the UK, for example, audiences tend to opt for more simplistic design and advanced mechanics, whereas in newer markets such as Sweden, games which are all singing, all dancing often prove more popular.
What is the relationship between the mathematics of a game and the mechanics – is it a tricky balancing act?
The two must work in tandem for a game to function effectively. A mechanic that looks great on paper may not always align with the underlying maths, so we are constantly experimenting and fine-tuning new mechanics to ensure that they perform consistently and with the desired effect on the gameplay. Some ideas fall together easily while others may take a fair bit of tweaking, which is why the testing process is so important.
For random reel titles we conduct several simulations, running around 10 billion games to gain precise statistics on various elements, such as how often a re-trigger or feature occurs in the gameplay. This process allows us to iron out any issues before launch.
Realistic Games recently released two new instant win games, Super Graphics Upside Down and Spin Dizzy. These introduced new mechanics to your existing library. How often do you need to rethink game mechanics to keep pace with evolving player preferences?
With every title we try to include something new and fresh, whether it's a slight adjustment of an existing mechanic that has performed well or coming up with an entirely new concept. If the latter, there is always a risk that an innovation might not prove as popular as anticipated, but it could also be the next big thing. With our level of experience and knowledge of the industry, we can take an educated guess at what will work and follow up with thorough market research.
We are accustomed to seeing 3 and 5-reel slots. How do you continue to introduce unique mechanics to your games to keep things fresh? How long does this process take? 
The average time is very much dependent on the idea. Realistic is constantly looking to advance our content, advancing player favourite mechanics and experimenting with entirely new features that haven't been seen before. Creating a unique feature requires a robust research and development process, therefore demanding more time. The appeal might not always be across the board, so it's about ensuring that the portfolio has not only variety but also quality.
Once you have introduced a new mechanic to a game, how do you explain this to the player in an entertaining way?
We've found our YouTube demos to be a great way to show how our games work to players. Reviews can also be hugely helpful and we're looking to collaborate more with affiliate sites to boost content in this area.
How much internal testing is involved in the creation of new features/mechanics and how do you access the potential for success?
Plenty! We run proof of concepts for big, new ideas and take on board feedback from previous releases to help guide development. The testing phase is fairly rigorous as we run almost infinite simulations to ensure all aspects of the game come together in one neat, complete package.
As we have seen with Super Graphics Upside Down and Spin Dizzy, introducing a new mechanic to a game can create its own brand style. Is this intended, or is it simply a consequence of finding a unique formula and running with it?
Realistic's games are always very stylistic and we have a strong brand flair that we try to capture with new mechanics. Sometimes you strike on something big and create features that hit the ground running, but there are many outside factors that can affect the popularity of a release. Take Big Time Gaming's Megaways, for example. Although the mechanic is now widely considered to be one of the most transformative innovations in game design of recent years, it took months after release for the games to really take off.
Can slots continue to iterate and innovate in the future so that they appeal to the current and future player base?
Absolutely, that has been proven time and time again in the evolution of the online casino industry. In fact, we have releases scheduled for next year that promise to be real game changers and we can't wait to launch them.