By
William
- 1 September 2022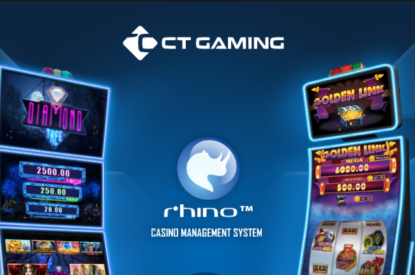 CT Gaming has set out the product releases the company will present at EAExpo in Romania including its new generation of slot machine, Next, and a new multigame with progressive jackpot, Golden Link.
The Next slot machine combines 'innovative technology' software and 'cutting-edge' design with the company's latest multigames from the Diamond King series and Mega Jack 2021.
Next features two 27″ UHD monitors and an optional 27″ video topper with a convenient play deck, a large CMS panel, a button panel, a built-in i-deck, and a built-in USB for phone charging.
"CT Gaming's passion for creativity will be overflowing in booth #107 at the upcoming Entertainment Arena Expo in Bucharest, Romania, where we will bring the ultimate gaming experience through our latest offerings," shared Valentina Dobre, General Manager for Romania at CT Gaming.
The slot machine will present multigames from the Diamond King series and the new Mega Jack 2021 multigame. Consisting of 50 games, the Diamond King series includes 40 of the most popular and new titles with ten games connected to the Diamond Tree Jackpot.
Diamond Tree has a strong jackpot theme, visuals and sound, awarding multiple progressives and bonus values at a time.
The Mega Jack 2021 multigame is a three in one product with 40 games, offering two jackpot concepts. Sixteen of the games in the game pack are linked to the three-level Progressive jackpot Diamond Tree and six titles are connected to the two-level jackpot, Chilli Link. Players can choose from 32 classic games, which include popular fruit titles, as well as games with free spins and various bonuses.
"We are excited to invite our customers and partners to get acquainted with the newest slot machine at our stand", said Robert Stancu, Sales Manager at CT Gaming, Romania.
CT Gaming will also showcase other products at its stand, such as the latest multigame with Progressive Jackpot Golden Link. "We are creating the ultimate experience that perfectly showcases our passion for what we do," commented Robert Stancu.
Golden Link is a jackpot linked to four games with a 5×5 layout and the jackpot levels could be won at any bet. All the symbols in the games can convert to golden coins during the game, and each golden symbol on the screen is collected in a bonus chest.
When 10 to 14 golden symbols appear on the screen simultaneously, the chest opens, and the bonus winning is paid off. There are two more levels of the jackpot – major and mega. When 15 to 19 golden symbols appear, the major level is hit. If 20 or more precious characters show up in the game, the mega Jackpot is won.
"Golden Link has immense potential. It is housed in the Ex Modulo Tower slot machine that combines the ultimate gaming experience with quality craftsmanship. The slot cabinet features a unique 43-inch UHD J-curved monitor with full touchscreen capabilities," explained Robert Stancu.
CT Gaming's range of products and services on show also include its casino management system that covers every aspect of the land-based operation, helping to drive revenue and optimise product and staffing.
Rhino CMS provides real-time monitoring and notifications across the gaming floor, including slot management and live games management, featuring a loyalty programme and jackpot payments on the floor.
"With our latest product releases, we offer a highly immersive experience, combining great design, visual appeal and innovative solutions.
"EAExpo provides a prime platform for us to showcase our innovations to the Romanian customers and illuminate how our solutions can deliver incremental growth and complement land-based gaming enterprises," concluded Valentina Dobre.