By
William
- 21 February 2023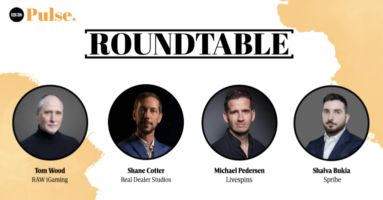 Our latest roundtable examines the emergence of non-traditional casino content beginning to dominate operator game lobbies. Looking at the different types of games that fall into this category and what makes them so popular with players, Michael Pedersen, Shalva Bukia, Shane Cotter and Tom Wood explore the player demographics these games appeal to and whether they can help operators engage the lucrative but hard to reach generation Z and millennial player base.
What is non-traditional casino content? What game types fit into this category?
Michael Pedersen, Chief Commercial Officer at Livespins: Livespins is the very definition of non-traditional casino content and our platform and offering fit perfectly within this category. The demand for casino and slot streaming is at an all-time high, and by allowing players to bet behind the action we've created an entirely new category of online casino gameplay.
Livespins is not the only game format that sits under non-traditional casino games – instant wins, crash games, mine games, Plinko and Slingo are just some of the others that come to mind. Ultimately, non-traditional casino content is underpinned by social interaction and a sense of community play – something that standard slot, table and casino games can't really provide.
Shalva Bukia, Chief Product Officer at Spribe: When we think of non-traditional casino content, we first think of crash games – the most popular non-traditional game at the moment. These games take the increasing curve format with a multiplier that continues to rise as the game plays out.
Players must cash out before they crash out. If they can cash out in time, they keep their multiplied winnings, if they can't, they forfeit their multiplied winnings and their original stake. Our flagship title, Aviator, was the original crash game when we launched it into regulated markets back in 2018, but today, there are more than 50 similar games from a range of providers.
Right now, Aviator has more than 5M MAU and I believe this category will only grow. Other popular games in the non-traditional category include mines, dice, plinko and hi-low- these are single player titles with different gameplay.
Shane Cotter, Chief Product Officer at Real Dealer: 'Non-traditional' refers to the emerging category of casino games that depart from the familiar diet of slots, animated table games and live casino titles that operators have been serving up to players over the past decade or so.
Real Dealer's focus is on table games, so our products have a solid, traditional element that players will instantly grasp. It's how we present our games, via Hollywood-quality recorded video, that really breaks tradition in the online gaming space. You could say that we're presenting the traditional in a non-traditional way.
Even more than that, the way we produce our games lets us splice together traditional elements from different verticals to create something totally new. For example, our upcoming Vault Run Roulette takes two immensely popular concepts from slots – multipliers and collect features – and works them into a cinematic table game within an exciting and striking environment.
Tom Wood, Chief Executive Officer at RAW iGaming: For RAW, there isn't a clear definition of what should be considered non-traditional casino content. We believe that any new studio worth its salt must think outside of the traditional casino box and deliver innovative, next-generation player experiences.
Given there are 17,000+ 3×5 and 4×5 reel slot games already in the market, with 200 titles added to that total each month, developers must differentiate to ensure their games stand out in the sea of sameness – that's what operators are looking for when deciding which new studios to work with.
A lot of this content probably sits within the category of "non-traditional" – our patent-pending SuperSlice engine, for example, uses wheels instead of reels – but ultimately it doesn't matter how games are categorised so long as they get player pulses racing and keep them coming back for more.
What makes these games so popular with players?
Tom: I don't think all non-traditional games have found popularity among players yet. With any new game format comes a learning curve that can create a time gap between it hitting the market and becoming widely played. This delay should not be cause for concern – players are hungry for new gambling experiences and innovation is a driver of player engagement and retention.
Never seen before formats, mechanics and bonuses offer an adventure that most players are at least willing to explore. The challenge for the studio is to ensure that the experience resonates and that these formats, mechanics and bonuses hit the mark in the same what that Megaways and Slingo have done as new mechanics.
Of course, it's worth remembering that Megaways was not an instant hit – just like other innovations, it took iterations of the mechanic to filter through to the masses and generate a buzz and that halo effect.
Shalva: Non-traditional casino games give players a greater sense of control over the outcome. With crash games, they get to decide how long they want to hold their nerve and when to cash out. This makes when for a much more engaging experience compared to traditional casino content like slots and roulette. The gameplay is also fast-paced and ideally suited to mobile.
Then there's the social interaction that's built into these games. Aviator is multiplayer, and participants can chat throughout their session and see live stats, bets and real-time updated leaderboards. The engagement and entertainment offered by non-traditional casino content is simply unrivalled.
Shane: It's about creating new experiences for players. On the table games side, there have traditionally been two choices: very basic, animated games and the realism of live casino. What we're providing is the same realism of live, but with all the advantages of RNG gameplay.
Michael: With Livespins, we're tapping into the Twitch and social culture that is becoming increasingly prevalent and essentially making an online casino game out of it by allowing the player to be actively involved through our bet behind system. The early numbers suggest this is an experience that players enjoy and keep coming back to.
But as with all non-traditional games, it's still early days as to whether they will stand the test of time. They're certainly popular with operators looking to shake up their game lobbies with never-seen-before content, but ultimately players will vote with their spins and it's my belief that not all these formats will be around for the long term. Of course, Livespins absolutely will be.
What player demographics do these games primarily appeal to?
Shalva: Generation Y and Generation Z are the core audiences for non-traditional casino games. But this makes the category an ideal acquisition tool for operators looking to engage this lucrative but hard-to-reach audience. Aviator is often used by our operator partners to entice this demographic of players to their sites and once they're engaged with the brand, cross-sell them to other verticals such as slots, table games, poker, bingo and even sports betting.
Crash games are particularly effective in this regard – Generation Y and Generation Z audiences are familiar with the style of gameplay they provide (sleek interface, fast-paced action, social interaction, etc) and enjoy the chance to win money. Of course, they also appeal to existing casino players as it offers a new category of play that delivers an edge-of-the-seat experience with each game round. This is why crash games in particular are now a must-have for online casino and sportsbook operators.
Michael: Millennials and Gen Z are the main audiences for Livespins and other non-traditional casino games, but I think it's important to clarify who fits into the audience segment. When we talk about Millennials, we often think of those in their early 20s but that's not the case – Millennials are born between 1981 and 1996 which makes those at the older end of this category 40 years of age.
Entain coined the term "Digital Dads" which sums up this demographic perfectly – we're talking about a slightly older audience but one that has grown up as a "connected" generation with the internet and computer games. This makes for a huge player segment that if engaged with the right content, can significantly drive player numbers, activity and ultimately revenues.
Tom: It's hard to say. Non-traditional content doesn't always have to be aimed at Millennial and Gen Z audiences, although that seems to be the target for most studios and operators as it's a lucrative audience they've historically struggled to reach.
Players often don't know what they want until it's presented to them, and that's why studios and developers need to be at the cutting edge and not be afraid to bring new concepts to market. Ultimately, the key is to have any player audience spin enough to be able to enjoy the full experience the game has to offer and, assuming it's an experience they like, to keep coming back for more.
Shane: Table games players have always been somewhat separate from slots players. This is something we know from back in the days when player demographics were more accessible. They tend to be slightly older and more traditional. That said, Millennials and Gen Z are now joining the ranks of those with disposable income and – this is key – they're the first generations to grow up with gamification. This means non-traditional table games like ours that can incorporate elements of gamification have a good shot at reaching these player audiences.
Additionally, we see a huge potential for crossover between sportsbook and table games. The love of sports is something that crosses all generational lines and we're building thematic table games that cater to this specific sector. So, by appealing to sports fans and gamers, we believe our content can help operators expand their reach into new and lucrative demographics while providing existing players with never-seen-before experiences that take engagement to the next level.
How can operators drive players to these games? Is an education process required?
Shane: There are always going to be challenges to overcome and an education process undertaken when introducing something so radically new to the market. In our case, we ended up having to add notices within our games to stress that they're RNG and not live, because they're so highly polished that a good portion of players didn't understand there was a difference.
Our first goal when we started rolling out games was to educate operators about Cinematic RNG and how the games are different from the online table games they were familiar with. That way they'd not only understand our concept and get excited about it but would also be in a good position to convince their players to give them a try. We've communicated our concept in countless one-to-one meetings and it's something we're still doing most times we meet with a new operator.
Now word has spread, and things have gotten easier on that front, but at the same time our product line is rapidly evolving and getting more interesting, so we constantly need to communicate our latest offering to operators so they can make sure their players understand how they work and the thrilling experience they provide. In terms of popularity, our games are attracting a respectable number of traditional RNG table game players as well as live casino players.
Tom: Non-traditional games can be hugely popular, but the challenge is driving awareness and educating players as to how games work and the experience they can expect. Most operators give new slot games just a day or so to see if they perform but with non-traditional games, this is a death sentence as players need more time to figure them out.
Without education, these games are doomed as most players don't like spending time on things they don't understand – most are looking for a quick entertainment fix and in the face of so much choice, often revert to something they are familiar with.
Therefore, it's up to the operator, with support from the supplier to arm players with the knowledge they need to enjoy these new games and the thrilling experiences they can provide. How can this be done? Lots of ways, including streamers unboxing games and walking players through how they work to email send-outs and website campaigns.
Michael: We're seeing a broad audience of players engage with Livespins. Some of these are existing players at the online casino that have naturally been drawn to the highly entertaining experience that our platform provides. This makes it a powerful retention tool. Of course, it can also be used for acquisition.
Not only can the stream be broadcast through the casino lobby, but it can also be shared via streaming platforms such as Twitch and D Live. This allows operators to engage those that enjoy watching casino and slot streams and then drive them to their casinos and Livespins where they can get directly involved by betting behind the streamer. This process has been designed to be highly intuitive, so no education process is required.
Shalva: Yes, they're popular with existing players, but some operators didn't think they would be. When we first launched Aviator, some were concerned that existing players would need to learn how the game worked, what they had to do to play and win, as well as how to engage with the social elements and bonus features.
But due to the simple nature of the gameplay and the incredibly intuitive user interface we designed and developed, players picked it up almost instantly. Almost five years later and now everyone knows how the game works, and this has seen it become a blockbuster hit will all player demographics with more than five million monthly active users.
What innovations can we expect within this space?
Michael: At Livespins, we'll be adding more game variations throughout 2023 and beyond and are also looking at whether our platform could work in other verticals like bingo and sports betting. We have a new tool set for launch imminently that will allow streamers to ask the community which game they should play next – four thumbnails appear with a timer that counts down with players picking which slot they want to see the streamer spin. That'll be followed by a must-drop jackpot feature that triggers at random for added big-win potential.
Shane: With the Cinematic RNG format, we have the flexibility combine dealer-hosted games with slot mechanics and bonuses such as collect features and jackpots. This is something that we will be taking to the next level in the coming months. Along the same lines, one of the trends now is to borrow from the most successful themes in the slots world, for example Egyptian or Irish, and work those into table games just like we've done with Scarab Auto Roulette.
We've also moved into market localisation, producing Spanish-language roulette games as well as an upcoming ice-hockey-themed game that's very much geared towards Canadian players. That title will be released in time for next year's Ice Hockey World Championship.
Shalva: Crash games are undoubtedly popular but there's still more to be explored in terms of themes, gameplay and bonus features. But one area where we believe there is tremendous scope to innovate and push boundaries is within loyalty tools built into games.
We also see plenty of room to further develop the tournaments that these games can be hooked up to. Improvements to both areas will enhance the player experience, making it more rewarding, competitive, social and interactive. At Spribe, we've been working on these for some time now and are close to launching products that will set the standard for others to follow when it comes to loyalty and tournaments.
Tom: This is a tricky one to answer as we have some incredible innovations in the works that need to stay under wraps for now. What I would say is that we'll start to see more games based on social-styled gaming with the aim of attracting Gen Z and Millennial players.
With SuperSlice and SuperTracks, we're focused on making the player experience simpler and more mobile-enabled while also in some cases creating a new player experience that walks the fine line between a slot and an in-app experience. If that will work and generate the engagement, we are hoping for remains to be seen. Outside of game development, I think we'll see more platform and side bet features that add another layer to the player's experience.
Is the social element something that players are increasingly seeking?
Shalva: Social interaction needs to be a core part of the gameplay and player experience if a game is to attract Gen Y and Gen Z players. This is baked into the experience offered across other entertainment options from mobile gaming to streaming, so consumers absolutely expect to be able to interact and chat with others when engaging with an online casino game.
That's why crash games and non-traditional casino content have been so effective at drawing this sought-after audience to online casinos and sportsbooks for the first time. It's also worth remembering that traditional casino players are enjoying increasingly social and interactive entertainment experiences outside of gambling, and again are starting to want to be offered the same when playing slots and casino games.
Tom: This is something that we are seeing, but it's yet to be proven to work. We know that the land-based world tried social, and it failed, so there's no guarantee whatsoever that this will work online. That said, it's clear that Gen Z and Millennials are more prone to play social games or certainly games with an element of interaction built into the overall experience.
In fact, the average youth spend more than two hours and 25 minutes per day on social platforms so that indicates there's a future player base that can be engaged so long as we crack the code and deliver a product and experience that engages, entertains and then ultimately retains.
Shane: For those that grew up in the era of Minecraft and Fortnite, the social element can be as much a part of the gaming experience as the game itself. It's only natural that this expectation is carrying over into the online gambling world. What we've also seen is an upswing in players recording and posting their gameplay online, essentially for bragging rights.
Certain games we're developing are a perfect fit for this player behaviour. For example, our upcoming Card Chase series gives players an option on every turn to take a safe bet or brave high odds bet. So, in the multiplier round, they could get 200x for the next turn of the card, and if they want to chance going lower than a two, the odds are going to be huge compared to the safer bet.
Michael: Absolutely. This comes from the video game sector with players no longer wanting to play in isolation. Games are now connected, with players wanting to play with their friends or other participants. This is carrying over into all entertainment options. Its why streaming has become so big and why the demand for casino and slot streaming continues to rise. Everyone is looking for that feeling of connectivity with a community of like-minded individuals, and this is no different when they are playing online casino.
Ultimately, will non-traditional casino content replace slots and table games?
Shalva: It's often the case that we see a product or experience go through an evolution rather than a revolution, and I believe it'll be the same for non-traditional online casino content. Will it replace slots and table games – no, but it will sit side by side with these traditional games in operator lobbies.
That said, I do think slot and table game developers will look to non-traditional content for inspiration when developing the next generation of casino titles, especially when it comes to social interaction, tournaments and even the simple gameplay and streamlined UX. So non-traditional content is unlikely to replace slots and table games, but it will undoubtedly impact future game development and the experience that players receive.
Tom: I find it hard to believe that this type of content will replace slots or table games. Instead, I think they'll sit alongside them in the same way that Megaways and Slingo complement an operator's core offering. That said, I don't think operators will be competitive if they don't stock this type of content in their lobbies and history shows that different games attract different player audiences.
For those brands that want to engage and retain a large player base in the future, they are going to have to meet these player expectations and the only way they will be able to do that is by offering a wide range of content, including innovative, non-traditional games.
Michael: They won't replace traditional casino games, but they'll be more dominant in game lobbies. The industry needs to find ways of engaging the next generation of players, and slots and table games in their current form are not really doing this. Non-traditional content acts as a powerful conduit, attracting new players to online gambling brands via content they want to engage with. Livespins sits at the cutting edge of this and is already proven to draw new audiences to online casinos while also providing new experiences to existing players.
Shane: We really don't look at it this way. The new types of games that are being developed are just add-ons, extending the range of what's available to players. Each one is an additional string to the industry's bow. Non-traditional games can resonate with current players who are looking to broaden their gaming experiences or find a home with new players who wouldn't otherwise visit an online casino.