By
William
- 25 October 2022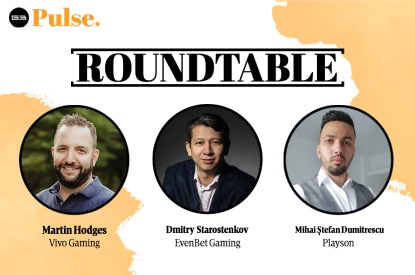 With players increasingly seeking out a more interactive and social gaming experience, tournaments offer a solution to increase engagement through friendly competition and instilling a sense of community.
EvenBet Gaming, Playson and Vivo Gaming discuss whether mixing up mechanics and prize amounts to engage different player demographics is the optimum means of player engagement and underline the importance of casino tournament tools in facilitating player interactivity.
What kinds of tournaments are modern players most attracted to and which games lend themselves best to the format?
Martin Hodges, Marketing Director of Vivo Gaming: What has become apparent is that any casino game can have a tournament element added to it with the right infrastructure to make it work.
Frankly, operators are missing out on a huge promotional advantage if they don't take whatever games they are offering and add a communal, competitive element. This engages players in a way that no other promotional tool can.
This obviously goes for the games that lend themselves to live dealer anyway, including poker, baccarat, teen patti and blackjack. But with our Promotional Tournament Tool, we're able to make the same capabilities available to our RNG partners as well.
Slots tournaments seem to pop up a lot less often than games that traditionally lend themselves to tournaments, but operators looking to stand out from the crowd in this highly saturated market should be organising such events regularly in order to maximise revenues.
Dmitry Starostenkov, CEO at EvenBet Gaming: In online poker, there are several tournament formats that appeal to players of varying experience levels. Freeroll tournaments are particularly interesting for beginners, allowing them to dive into the world of poker events without the need to risk any great deal of money.
For more experienced players, there's a range of guaranteed prize tournaments. These tend to be more challenging and give players the chance to become champions and take home a big prize in the end. Then there are also luck-based short tournaments that involve elements like RNG spins and randomly increasing prize value.
These can be a refreshing addition to more long-form tournaments as they generally have quite a quick turnover, are a lot of fun and can sometimes result in big wins. It's important that an operator offers an array of tournament types for players of different degrees of experience but also a spread of events that appeal to players of the same level, so they don't get bored of one type of tournament.
Mihai Ștefan Dumitrescu, Promotions Manager at Playson: Innovation is what attracts modern players – they want to explore new concepts rather than engage with the classic slot model. For example, over the last few years we've seen several successful new mechanics introduced, most notably the Megaways mechanic which completely changed the thought process of paylines. Other inventions such as the Bonus Buy feature and gamification of live roulette have increased player engagement figures.
This trend of applying new features that elevate the overall experience also applies to promotional tools, including tournaments. Bringing alternative functionality to the player can help to gain a competitive advantage and bridge the gap between your competitors.
Are different mechanics and prize amounts needed to engage casual players?
Dmitry: Different mechanics are indeed necessary to engage players with varying experience levels of the game. Freerolls are a reliable option for new and inexperienced players.
However, there are myriad ways of making tournaments more dynamic and challenging for more experienced players. One good example of this is knockout bounties. In this format, a bounty is a set amount of prize money a player wins for each opponent they knock out.
Tournaments like this become far more appealing to players as they become more confident, and simple, sometimes massive and chaotic freeroll tournaments become less fun. At the same time, casual players prefer to play risk-free or short tournament formats that allow them to drop in and out while they have 15 minutes to spare and a smartphone at hand.
Mihai: Out of the two, I'd say it's the more experienced players that need different mechanics and prize amounts. These players are already familiar with your product offering, whether it's your promotional tools or mechanics, so they can quite easily recognise something innovative or distinctive. However, the casual players will quite naturally have less knowledge about casino products since they've spent less time at casinos.
Martin: It's important to cater an offering that matches the experience level of the player. For example, casual players would benefit more from experiences like side bets and unique features that generate higher house edge.
This enables them to familiarise themselves with the mechanics and features of a game. Apart from being more enjoyable, it's a good introduction to the whole dynamic and will make them more confident in trying more advanced features and games down the line.
For more experienced players, we can set up another tournament that's part of a VIP table involving a minimum average bet and similar features. With our Tournament Promotional Tool, this is all easily navigable and customisable, making sure players of all levels are catered to.
It's even simple to cater to customers that want specific game settings and rules applied to their tournaments for a tailored experience.
How important is interactivity between players to the success of a tournament? How can this be implemented?
Mihai: Interactivity between players is incredibly crucial, as this is one of the aspects that can significantly boost player engagement figures. By simply awakening the competitive spirit of players, you're presenting a more exciting event which also increases the KPIs for casinos.
I believe that this is already implemented at a certain level, by trying to reach the top of the leaderboard, players are already in competition with each other. But if you can enhance this key component, you'll have a more successful tournament.
Martin: This is essential – the main selling point of a tournament is the community spirit it helps to build. This is why watching a match at a pub or live at the stadium is so much more exhilarating than doing so at home on the television. We crave the social element and the communication that comes from a shared experience.
With that in mind, the technology facilitating this need to be robust and slick. People are used to communicating on platforms such as Twitter and Facebook. Anything that falls short of the intuitive navigation they enjoy with these sites will feel jarring and the offering will inevitably fall by the wayside. In short, the ability to communicate is crucial, but it needs to be done well.
Dmitry: The interaction between players is not entirely necessary for the game, but it creates a vibe that boosts engagement levels and makes each event unique. Reading an opponent's gestures and tells is an exciting part of the game, but as this is not possible in an online offering an operator needs to compensate. The two most popular options are player chat rooms and quick reactions like emojis or other brief messages that can be sent across the table in a single click.
EvenBet Gaming is currently working to introduce a video chat functionality that will allow players to live stream to each other, bring the online experience more in line with the one they might expect at a casino and maximise the benefits of interactions during a remote tournament. This will be available sometime in the near future, so what this space.