By
Lewis
- 1 June 2020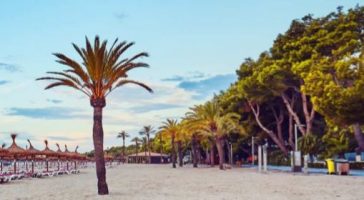 Spain, the land of fiestas, is currently in a permanent state of siesta thanks to the Covid-19 pandemic.
The once popular seaside holiday resorts are ghost towns. Shuttered shops, restaurants and closed beaches have been a common façade for the last two months and the only visitors are the police and military, which roll through the towns like tumbleweed keeping residents indoors.
Lock down began officially in Spain on March 16 and confined people to their homes, only permitting them to go shopping, to the pharmacy, walk their dog, attend to relatives in need and in some cases go to work (key workers and essential services only). The State of Alarm was later extended until May 24 whilst deescalation began on May 11 and is expected to run until end of June at least.
The eight week de-escalation period involves the gradual lifting of restrictions including the re-opening of bars, restaurants, hotels and leisure venues with limited capacity initially.
Spain is currently the second worse hit country in Europe in terms of virus cases. As of May 8 there were 256,855 cases with just over 26,000 deaths. The number of reported cases peaked at the beginning of April with around 8,000 new cases daily. Since then it has been dropping to around 2,000 new cases per day and around 200 deaths per day compared to the peak of 950 daily at the beginning of April (worldometers.info).
The Coronavirus outbreak has hit Spain where it hurts the most. The tourism and leisure market. This tourism sector contributes around 14 per cent to the GDP and is the second economic powerhouse after trade. Some 83.7 million visitors flocked to Spain's sunny shores last year and the country is ranked second on the World Tourism Organisation's most visited countries chart.
As hotels closed so did cultural and art shows, sports venues, open spaces, public roads, recreational activities, bars, restaurants and leisure venues and of course casinos, gambling halls, bingo halls, sports stadiums and betting halls all had to shut up shop for the duration.
The scars CV-19 will leave Spain will be deep. Unemployment and debt will be the main issues. It is thought unemployment with skyrocket from between 18.3 per cent to 21.7 per cent and that is not counting the workers affected by ERTE (Temporary Suspension of Work package). Prior to the pandemic, Spain was finally showing signs of recovery, after it was knocked to its knees during the global financial crisis a decade ago.
Prime Minister Pedro Sanchez already had a whole list of challenges ranging from the Cataluña unrest, unemployment issues, pension problems and a spike in the number of families struggling to make ends meet. Throw a pandemic into the mix and Spain is going to struggle with severe repercussions that will weaken the economy and see a high unemployment rate which currently stands at 14.4 per cent. In March and April (usually best employment months) the number of jobseekers jumped by 600,000 bringing a total of 3.89m out of work. Meanwhile Spain's GDP fell by 5.2 per cent during the first quarter of 2020 as a result of the strict confinement measures.
This is the largest quarter drop in nearly a century and predictions are for a 9.2 per cent recession this year. Public deficit is expected the reach 10.1 per cent of GDP this year whilst debt is expected to spiral to 115.5 per cent of GDP.
The recovery for 2021 is not expected to be strong enough to compensate for the drop this year whilst the loss is expected to be higher than that during the global recession period.
GAMBLING SECTORS
Spain's gambling sector is governed by the Directorate General for Gambling Regulation (DGOJ) which covers landbased gambling – casinos, bingo, slots and betting plus regional lotteries (except ONCE), online gambling and other traditional types of gambling.
In Spain last year there were some 319 bingo halls, 619 betting shops, 3,463 gaming halls, 117,800 single site locations hosting slots and 9,575 single sites with betting machines.
There were 192,000 Maquinas B (slots) in the country; 50 casinos plus 22,950 betting machines located in gaming halls, casinos, betting shops and bingo halls.
The Spanish spend around €32.3bn in total on private gambling (casinos, slots, bingos, online gambling, betting, arcades) with a GGR of €5.3bn (2018 data). Around €11bn was spent on public gambling (lotteries) with a GGR of €4.21bn (state lotteries 74.2 per cent share and ONCE 24.5 per cent).
The private gambling GGR is made up of €4.85bn on landbased gaming and €724m on online gambling. The private landbased gambling consists of:
Casinos with €357m GGR.
Bingo with €591.7m.
Gaming arcades with €847.8m.
Betting with €351.6m.
Maquinas B (single site slots) with €2.61bn.
Maquinas B (bingo halls) with €93m.
Lotteries (ONCE and SALAE) with €4.21bn.
For the online sector this is made up of:
Sports betting (state run) with €360.3m GGR.
Horse racing with €5m.
Sports betting with €25.3m.
Competitions with €1m.
Poker with €81.3m.
Casino games with €107.6m.
Slots with €130.3m.
Bingo with €13.4m.
The online gambling market has grown from around €313.1m GGR back in 2014 to €747m in 2019. Live fixed odds betting is the highest GGR earner with 30.5 per cent share, followed by traditional fixed odds betting (18.7 per cent), slots (21 per cent), poker tournaments (seven per cent), live roulette (7.8 per cent) and traditional roulette (4.6 per cent).
In 2019 online operators included 45 online betting operators, 10 online poker, 51 casino and four bingo operators.
With the lock down situation online gambling was one sector expected to be waving the flag of success but on April 1 the Spanish government banned virtually all gambling advertising during the Covid-19 crisis. The 'urgent complementary measures' were put into place to protect consumers and it has severe restrictions on gambling advertising. This includes:
No gambling advertising referring to the current Covid-19 crisis on any platform.
No promotional activities such as bonus schemes aimed at gaining new customers or maintaining loyalty of existing customers.
No online advertising including email and social media messages.
Broadcast advertising is only permitted between 1am and 5am.
Sport betting represents about 50 per cent of the online gaming market in Spain and Spanish Digital Gaming Association JDigital said at the time the advertising measures were a "severe blow" to an industry already suffering the effects of the CV-19 crisis. In 2018 Spanish licensed operators spent €168m on advertising.
At the beginning of May JDigital said both income and the number of active players had fallen by 50 to 80 per cent since the online gaming advertising ban. At the beginning of lock down the number of players initially increased, particularly in online poker, but since the advertising ban this dropped over the following weeks whilst Google Trends metrics showed a slump of 60 per cent in searches for game operators.
Meanwhile the casinos closed their doors in mid March. The country has 50 casinos operating with 466 table games and 1,519 slots. There are usually some five million visitors to the casinos annually whils the casinos saw a GGR of €360m last year made up of €196m from table gaming and €164m from slots.
The SALAE state lotteries (National Lottery, Primitiva and Quiniela) and ONCE also shelved the sale of tickets at the same time.
On April 10 the Official State Gazette (BOE) published that the sale of Eurojackpot tickets could be maintained online via the ONCE website, permitting only single draws not consecutive ones. This is traditionally held every Friday from Helsinki incorporating 18 countries in Europe. Meanwhile, any other lottery tickets already purchased will be valid for the next draw as and when normal service is resumed.
This unprecedented suspension of ticket sales brings a halt to a lottery system which has been in operation in Spain for the last 200 years. There are some 1.1 million registered online users although the majority of tickets are sold via the 10,900 outlets which were closed down during the lock down period.
Last year around €11bn was gambled on the lotteries divided between €8.8bn on the state lotteries and €2.1bn on ONCE. GGR from the lotteries amounted to €4.21bn in 2018 with state lotteries saw a GGR of €3.12bn and ONCE saw €1.03bn.
Usually 98 per cent of total sales from the SALAE are made via the shop outlets and €661.6 million was paid out last year in commissions to sale agents. Sales via face-face channels reached €8.84bn with €159.6m played online and €56.4m played via mobiles.
The state lottery sees some 41.1 million bets made each year, dished out some €5.7bn in prizes last year and donated €26.9m to one million different social charities and organisation. The lotteries were expected to start up again mid May.
THE OUTLOOK
The Spanish government agreed to a fourth extension of the State of Alarm on May 6 which will run until May 24 which will enable them to carry out restrictions including confinement measures with the aim of keeping new infections below one per cent. Initially this figure was around 35 per cent. A third line of credit valuing €24.5bn has also been activated to help companies and the self employed.
Spain's de-escalation plan will run over eight weeks in two week increments and the move to the next phase will depend on each region's increased or decreased rate of cases during each two week phase.
The first two weeks saw certain businesses able to re-open their doors via an appointment system. Families could take walks and exercise within set time limits whilst the following two weeks saw bars and restaurants open with a 50 per cent capacity on their terraces only.
Hotel and tourist accommodations could also re-open to 50 per cent capacity. The third phase includes regulations for bars and restaurants to open their indoor areas at a reduced capacity whilst cinemas/theatres and cultural places could also reopen. Family and friends can visit each other from May 11.
The fourth phase is expected to see a gradual easing of movement between regions in Spain. Schools will not resume fully until September and the aim is for 'normal' operations to continue by the end of June.
At the time of writing (May 8) there was no specific measures in place for gambling venues and these come under the Annex to RD 463/2020 suspended activities under the state of alarm. Gaming halls are expected to open by phase two and large ones by phase three depending on their capacity. Operators will be expected to re-organise their salons to accommodate social distancing regulations.
In mid April it was predicted that if Spain's Covid-19 crisis continued until the end of May it would destroy 14,800 direct gambling jobs and 20,000 hospitality jobs. It is anticipated that the casinos, bingos, gaming arcades and slots will lose around 35 per cent of their income and this was the most favourable scenario suggested by Professor Jose Gomez Yañez.
Money used to back up ERTEs and a flailing economy will need to be found if Spain is to recover. It has been estimated that the cost of ERTEs will be around €700m by the end of this year and will easily continue then into 2021.
The entertainment services sector (which includes the gambling industry) in Madrid alone is expecting a 15.5 per cent drop in employment (loss of 30,000 jobs) after three months of confinement whilst the hospitality sector anticipates a 22.3 per cent drop.
Gambling is a sector with 10.5 million customers and high tax revenues. The inactivity of the slots market in Spain has already cost the treasury an estimated €1.5m. Taxes have been reduced in a package of measures announced at the end of April to help businesses but this may not be enough.
The sector, represented by various associations such as ANESAR, CEJ, COFAR, CEJUEGO, have joined together to present a plan to recover the activity of the gaming sector. The have put forward some proposals to reopen the sector which will include: mandatory health and safety issues available to customers; the guarantee of social distancing for customers; implementation of hygiene and disinfectant measures; security and hygiene measures for cash handling and to facilitate different payment systems within establishments.
The prediction is the Spanish gaming market will continue post-CV19 and consolidate with some acquisitions of operators and closure of others. Although digital gaming will play a leading role, the retail segment is not expected to disappear however, and some landbased operators will consider diversifying their business incorporating online offers.