By
Phil
- 24 April 2014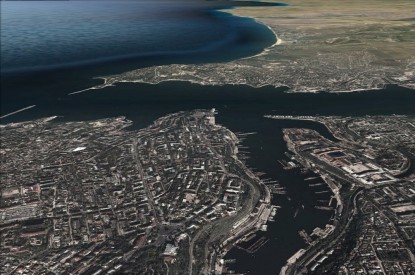 Russian President Vladimir Putin has now presented his plans to turn Crimea into
Russia's fifth gambling zone with a draft law that will allow the new authorities in Crimea to pinpoint a favoured location and the extent of the planned casino zone.
Having slammed casino style gaming as a dangerous addiction and a vehicle for organised crime, Putin introduced legislation exiling casino games to four far flung gaming zones in 2009. He is now keen to develop a casino industry in Crimea, 900 miles from Moscow, to boost the economy and make it less reliant on Moscow money. The bill states that adding Crimea as a gambling zone will not need any additional funding from the federal budget.
The initial idea was to limit the gambling zone close to 5-star hotels in Sevastopol, however Dmitry Kozak, Russia's Deputy Prime Minister, who has been asked to turn Crimea into a special economic zone, argued the gambling zone should be developed in less densely populated areas. It is likely therefore to be setup away from already established resorts. The Duma has already discussed plans to develop a bridge linking its new peninsula with the mainland.
According to Crimea's First Deputy Prime Minister Rustam Temirgaliyev Crimea's new authorities are already believed to have raised US$1.5bn for the construction of the zone.
He said that the world's biggest gambling companies had already officially promised to invest in the project so budgetary financing would be minimal.
"It is planned to create at least 10,000 new jobs," he explained. "The resort is expected to yield a large-scale multiplier effect; a high workload of the entire infrastructure: the sphere of services, automotive transport and everything linked with servicing tourists. We plan to create a round-the-year resort. Demand for the gambling zone will be all-seasonal. We have received a large number of offers from the most recognised global brands to take part in this project. Until the State Duma passes a relevant law, we shall not announce the names of the companies seeking to participate in the projects."
He added that the gambling territory would be around 100 hectares in size and would be built on Crimea's southern coast. It will be a closed zone located far from populated localities. One consideration is to develop the zone between Alushta and Yalta, near Gurzuf, but without access to the sea. The decision will be made after the State Duma passes a law on the establishment of a gambling zone in Crimea.
Samoil Binder, Deputy Executive Director of the Russian Association for the Development of the Gambling Industry, said the zone should target foreigners as well as Russians. "It is necessary to build several five-star hotels on the seashore, to build a recreational infrastructure, including concert halls, sports facilities, restaurants, bars. It will be necessary to organize sports events there, like world championships in Las Vegas," he explained.