By
Phil
- 12 March 2020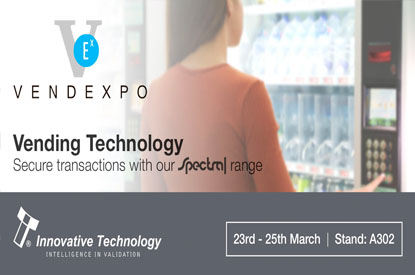 Moscow will host Vend Expo's 14th International Vending Technologies and Self-Service Systems Exhibition on March 25 to 27 at the Expocentre. Innovative Technology will demo their range of vending products designed specifically for this market.
Georgiy Frolov, Business Development Manager commented: "Vend Expo is an important event in the ITL calendar as it gives us an ideal platform for us to network with our customers in the region and get a real feel for the needs of this developing marketplace going forward. This new era of self-service is fast moving, technology-led and presents exciting opportunities for the future."
"This year we will focus on highlighting the NV9 Spectral note validator which boasts fast note to note processing and can be mounted vertically making it ideal for vending applications. The NV9 Spectral is a more technologically advanced version of the well-established NV9 with the added benefit of Spectral Technology. State of the art sensors ensure the full note is scanned and verified along with stained note detection technology which guarantees the rejection of stolen banknotes."
ITL will also show how their age verification device (ICU) can prevent access to age restricted goods sold in vending machines. ICU automatically checks age with no need for manual intervention and access is either approved or rejected, with changeable age limit settings. It's fast and gives a 96% accuracy rate when identifying under 18's.
Mr. Frolov concluded: "The BV50, a popular validator with Russian customers, will also be available on the stand for visitors to demo. This space saving bill validator fits easily into the standard vending plate. It has the option of up or down stacking and four cash box capacities making it ideal for vending machine applications. Come and see the ITL team on stand A302 to find out how our solutions can create efficiencies and improve cash validation security for your vending fleet.