By
Phil
- 26 November 2012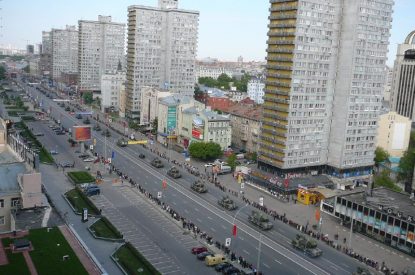 Moscow police have shut down a large-scale casino on the busy street of Novy Arbat where they have confiscated gambling tables and slot machines for the second time in less than a year.
The main thoroughfare through the Arbat district used to be the home to several, huge casino complexes before legislation was introduced to ostracise casinos to four remote gambling zones. The latest underground operation was located over two levels of a deserted, four-story building on Novy Arbat. It had a separate entrance with secure doors and a complex CCTV surveillance system.
A police officer stated: "There were specially made tables for playing poker, four tables for roulette and 34 slot machines. All gaming devices have been confiscated, actions are being taken to identify those behind the club."
It was not immediately clear when police raided the casino, but it is In February, police confiscated 58 slot machines from another casino located in an unmarked nonresidential building.
President Dmitry Medvedev signed a law in July 2011 whereby anyone found operating a casino could face fines of up to US$12,000 and a three year prison sentence.
Since the law banning casinos came into effect in the summer of 2009, nearly 30,000 illegal casinos have been closed down. One of the highest-profile scandals took place just outside Moscow six months ago when an illegal casino network was uncovered in 15 towns across the region. It has been alleged that businessman Ivan Nazarov operated the casinos with several high-ranking officials of prosecutor's offices and the Interior Ministry involved.