By
Phil
- 4 June 2019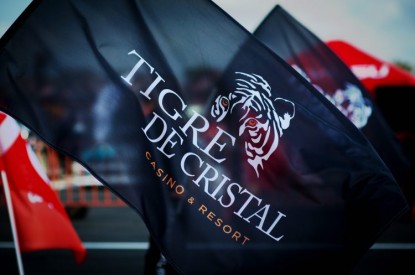 The Primorsky Krai Development Corporation has said the Primorye gambling zone in Russia's Far East is on track to host 12 casino resorts with plans for the second phase of the project amounting to investments of more than US$2bn.
Primorye Corporation Executive Director Igor Trofimov was at the recent G2E Asia in Macau pitching for new operators. He confirmed there would be three new casino resorts opening in the gaming zone next year, joining the already established Tigre de Cristal.
NagaCorp expects to open the first phase of Naga Vladivostok in the first half of 2020 with CJSC Shambala, one of the operators from the now shut Azov-City, next in line to open. Diamond Fortune expects to open its Selena Casino as part of the Imperial complex in September 2020 whilst South Korean companies Ramid Hotels & Resorts and K International have both signalled their intentions to join to far east Russian revolution.
Mr. Trofimov explained: "In 2020, the second phase of the construction of the Primorye IRC will be completed – the opening of two new Naga Vladivostok and Shambala complexes will take place. Investors are in the active stage of construction – the first floors of new buildings have already been erected. Financing in the amount of R2.9bn under the program initiated by the Federal Agency for Tourism will be directed to the construction of the transport engineering infrastructure."
"We are interested in new investors. Today there are two free land lots for the construction of hotels and casinos, and work is underway to expand the possibilities of the non-gaming entertainment segment – the resort concept includes not only a gaming zone but also provides entertainment for family and youth recreation, such as an amusement park or water park."
NagaCorp has said its resort will house a 279-room hotel with 500 slots, 125 tables and a 2,000 capacity theatre and a spa. The new Shambala will be a large-scale project including a hotel and entertainment complex with 500 slot machines and 50 gaming tables. Being built alongside a 270 room hotel and will cost US$128.5m to build.
Chairman of the board of directors of Naga Corp. Tim McNally, revealed that five floors of the property had already been built at Naga Vladivostok and that it should be completed in the first half of 2020.
"We'll be focused on the North East Chinese market, which represents more than 400mpeople. Plus South Korea and the regional Russian population," he explained.
Existing operator Summit Ascent Holdings has enjoyed the rich soils of Primorye since opening in October 2015 with 121 hotel rooms and three main gaming areas made up of 42 mass-market tables, 25 VIP tables, and 769 slots and ETGs.
Summit Ascent's Executive Director Erik Landhir earmarked a 2021 opening for the second phase of the Tigre de Cristal complex.
Mr. Landhir said: "We believe that within four years the gambling zone in Primorye will already be transformed into a full-fledged resort due to the opening of new complexes, including our company plans to implement the Tigre de Cristal Phase 2. Additionally, our plans include the creation of eight guest villas and 22 buildings for residential apartments. We plan to increase the number of rooms to at least 350, which is three times the number of rooms in the current Tigre de Cristal. The project provides 25 gaming tables for mass players and about 300 slot machines, as well as 50 gaming tables for VIP guests."
In April this year, the Hong Kong-listed Suncity Group confirmed it had increased its stake in Summit Ascent Holdings from 3.29 per cent to 27.97 per cent at a cost of US$104.3m.
Mr. Langhir said: "Suncity Group joining the project is an important step for the development of the company's business. In Macau, the company accounts for more than 45 per cent of the business of developing the segment of premium players. It is the largest junket operator in Asia, some might say the world. Cooperation with such companies greatly helps the development of hotel and casino management activities."
Despite a downturn of 1.6 per cent last year to GGR HKD463.2m (US$59m), Summit Ascent Holdings, the lead company behind the region's only existing casino; Tigre de Cristal, is being tipped for great things with analysts believing its VIP revenue could double over the next two years.
Union Gaming Analyst Grant Govertsen said: "Underpinned by a sequentially improving VIP story, as well as continued strong growth in mass and slots (itself driven by enforcement against illegal venues as well as robust tourism trends). We see significant upside potential with respect to the company's VIP programme on a go-forward basis. We believe the VIP story for Summit Ascent could nearly double by 2020."
Chairman Kuo Jen Hao said: "From the beginning of 2018, we have placed increasing emphasis on the development of our "premium mass" business which targets Asian players," he added. "The results so far have been quite positive and were also supported by increased flight connectivity and increasing awareness of our property in our target feeder markets. Growth in our mass business, and in particular our 'premium mass' business, and strict cost controls enabled the group to post a profit in 2018 and to maintain positive EBITDA momentum. Our slot business primarily targets the local market but has also seen growth from our foreign players."
Looking to the future, he added: "We are now targeting an opening of the first stage of our Phase II property by summer 2021, owing to our recent changes in substantial shareholders and subsequent alterations in the design and financing options. The first stage of Phase II is expected to significantly increase the existing hotel capacity, gaming tables and slots. This expansion will also include additional restaurants and bars, an indoor beach club, and a premium outlet mall."