By
Phil
- 25 August 2020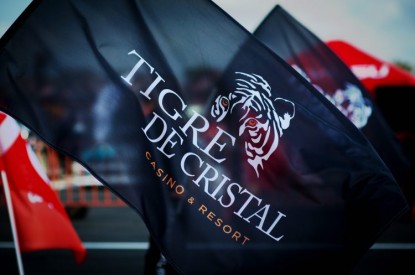 Summit Ascent Holdings has said it will limit the expansion of Tigre de Cristal's Phase II expansion in Russia's far east and look instead to diversify its revenue streams with investments in other gaming markets.
The Directors believe that the COVID-19 will continue to present challenges to the Group, and it is impossible to quantify the impact to the overall business due to many uncertainties, including impact of the COVID-19 on the economy and consumer behaviour in the short and long term. Nevertheless, the group has a strong liquidity position with current ratio of 3.0 and a debt to equity of zero as at 30 June 2020 and would be able to continue its operation under this unprecedented period of 'near-zero revenue' for over 12 months from the end of the reporting period.
A company spokesperson said: Due to the recent redesigns with the input of Suncity, the group has been reviewing and finalizing the conceptual designs of the Tigre de Cristal Phase II development on Lot 10, and planning to commence the construction works in the fourth quarter of 2020, targeting an opening in 2022. The expected total development cost of the Phase II project is approximately US$200m. This new integrated resort is expected to double the Group's VIP and mass gaming tables, slots, and have at least twice the lodging capacity of the existing property, and will include four restaurants and bars, additional retail offerings, and an indoor beach club and spa. The Phase II development of Tigre de Cristal will place the group in a better position to attract and retain customers, especially when other casino operators in the IEZ Primorye open for business in the near future."
" Whilst the Directors remain cautiously optimistic about the long-term prospects of Tigre de Cristal in the Russian Federation, they are of the view that it is in the best interests of the Company to diversify its assets and revenue streams in order to reduce the group's reliance on a single revenue source and location. From geographic diversity point of view, the company has been exploring other business opportunities in order to expand the existing business of the Group and to explore new markets with significant growth potential. The investment in SunTrust marked the first step towards establishing the Group's footprint in the casino and entertainment market of the Philippines and allowing the Group to tap into this growing market, as well as providing synergies to the overall tourism related business in partnering with SunTrust and Suncity. The Directors believe that investing part of the net proceeds from the Rights Issue for the Subscription to achieve the diversification is more compelling than expanding the current scale of the Phase II development of Tigre de Cristal.
Summit recorded total revenue in the first half of the year of HK$96m, down 63 per cent compared to 1H 2019, primarily due to the COVID-19 pandemic.
The spokesperson added: "The reopening of Tigre de Cristal from 16 July 2020 has not only allowed employees to go back to work, it has also enabled the upgrade works of Tigre de Cristal to continue, which include a brand new Suncity VIP room, authentic Korean and Chinese restaurants and an addition of 34 hotel rooms. The upgrade is expected to be ready once the pandemic is settled. The past few months have presented Tigre de Cristal with an unprecedented challenge. However, we expect the industry's fortunes to rebound if travel restrictions are lifted. We are optimistic that customers will see that Tigre de Cristal invested time and effort to welcome them back to a safe and entertaining environment."