By
Phil
- 13 July 2012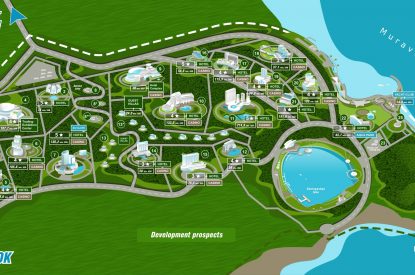 Vladivostok has moved closer to its aim of becoming one of Russia's four gambling zones with OJSC Nash Dom Primorye, a wholly owned government corporation of the Primorsky Territory government of Russia, issuing a Request for Concepts (RFC) process inviting global investors to develop integrated resorts with casino gaming components, at its Integrated Entertainment Zone (IEZ).
Any investors interested must register their company details at http://www.iezprimorye.com to download the RFC documents by September 21.
Nash Dom Primorye announced its Notice of Intent to issue a RFC at the Global Gaming Expo (G2E) Asia in May 2012. The IEZ aims to capitalize upon the significant economic growth of Asia's economies. The zone, located approximately 20km from the new Vladivostok International Airport is one of four designated zones in Russia that will allow legalized casino gaming activity. It is the only zone with direct access to Asia and is only a 2-hour flight from both Seoul and Tokyo. The master plan includes hotels, a yacht club, retail outlets as well as golf courses. Vladivostok is looking to take on markets such as Macau, Singapore, Vietnam and the Philippines as it looks for its own slice of Asian gaming action.
Whilst other remote zones have been belittled by analysts as having no chance of working, a report from Gaming Market Advisors believes Vladivostok's Integrated Entertainment Zone could generate Gross Gaming Revenues of between US$2 and $7bn when completed pitching it either side of Singapore's GGR of $5bn, generated in 2011.
Vladivostok will host the 2012 Asia-Pacific Economic Cooperation Summit later this September.
General Director of Nash Dom Primorye, Marina Lomakina, said: "The RFC process will streamline communication, allowing more structured and transparent exchanges with global investors. While casino gaming is legal in the zone, we are looking for concepts that focus on tourism development. Every effort is being made to ensure that global investors are confident in the business environment of Primorye. We look forward to receiving RFC responses that capitalize upon Vladivostok's strong linkages with Asia."
Nash Dom Primorye will manage the RFC process and has designated world-recognized public policy advisors Galaviz & Company  to assist in providing guidance on global best practices. The process will be transparent, structured and follow international best practices, aligned with the Russian government's aim to boost foreign tourism and economic development in the Far East Region.
"We believe the IEZ will create a compelling experience for Asian tourists seeking a destination that is near, but culturally different. We also believe that investors will be interested in the tourism and casino gaming potential of the IEZ," added Ms. Lomakina.