By
Phil
- 23 May 2012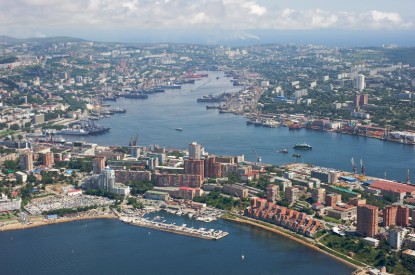 The Russian authorities are hoping that following the failure so far of its remote gambling zones, the lure of being able to attract Chinese gamblers will convince developers to invest in its gambling and entertainment zone near the port of Vladivostok.
The city is the administrative center of Primorsky Krai and is located close to the borders with China and North Korea at what is called Golden Horn Bay.
Russia's state-owned Nash Dom Primorye has been charged with the challenge of finding private investors to develop up to five casino resorts in a six sq. km. area known as the Integrated Entertainment Zone near Vladivostok, which is just a couple of hours flight time away from Seoul and Tokyo. The master plan includes hotels, a yacht club, retail outlets as well as golf courses. Vladivostok is looking to take on markets such as Macau, Singapore, Vietnam and the Philippines as it looks for its own slice of Asian gaming action.
Whilst other remote zones have been belittled by analysts as having no chance of working, a report from Gaming Market Advisors believes Vladivostok's Integrated Entertainment Zone could generate Gross Gaming Revenues of between US$2 and $7bn when completed pitching it either side of Singapore's GGR of $5bn, generated in 2011.
Vladivostok, which translates in Russian as ruler of the east, has been having a makeover prior to hosting the 24th Asia-Pacific Economic Cooperation summit in September 2012. This has seen investment of some $7bn spent on roads, transport links, airports, Golden Gate style bridges and a new university ahead of the summit.
Vladivostok is one of four official gambling zones, the only places where casino gambling is legal in Russia. So far it is the only zone that has pieced together an official blueprint to try and attract foreign developers.
Nash Dom Primorye has moved to hire Las Vegas-based Galaviz & Co to be its strategic adviser for the tender process, which will begin in June.
Investors will be given 60 days to send in their proposals which will then be analysed by local government officials in October. Marina Lomakina, General Director of Nash Dom, said the process would demand that operators were well known with experience in creating more than just gaming floors. She pitched the total investment needed at $2bn and said she hoped the zone would be operational within five years' time. Whilst most of the customer base would be derived from China, Korea and Japan , the General Director highlighted that Russian players would also be important to the business model.
Having banished casino gaming to the four remote zones effect in the summer of 2009, the Russian Authorities have shut down nearly 30,000 illegal casinos that have sprung up in their place.
The Russian government moved to scrap Azov City two years ago, which was the only zone where a casino was even opened having conceded that its location was too remote and too lacking in infrastructure to be a workable zone.
The Government of the Altai region in Siberia meanwhile claims to have operators for four casinos making up the first wave of the Sibirskaya Moneta (Siberian Coin) casino project. Although so far only Slovenian operator, Hit, has confirmed its involvement in the Sibirskaya Moneta project, along with investor ALTI.