By
Lewis
- 19 May 2014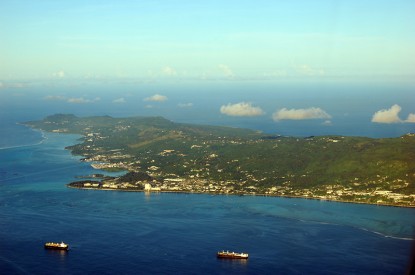 Best Sunshine International, the remaining applicant for a license to develop a US$2bn casino resort on Saipan, has presented its plans to the Lottery Commission and the public, which includes a 2020 grand opening for a four-phased integrated resort that it hopes will transform Saipan into "the Monaco of the Pacific," drawing references to the oft sited Singapore casino resort model.
The first phase includes a 401-room hotel and casino and will be built in 2017-2018. The investor is required to build a total of at least 2,000 rooms. Best Sunshine is a direct wholly-owned subsidiary of First Natural Foods Holdings Ltd., which will be renamed Imperial Pacific International Holdings on May 20, 2014. Earlier this year, Imperial Pacific acquired certain interests in a Macau VIP gaming business with operations in various casinos in Macau including Wynn, Galaxy, MGM, and Venetian.
For decades, casino gaming in the CNMI (Commonwealth of the Northern Mariana Islands) was authorised only on Tinian and later Rota. This changed this year when the Legislature and the Inos administration approved a bill authorising casino gaming on Saipan, citing the need for new sources of revenue to fund the government's growing obligations, including restoration of retirees' deferred 25-percent pension since last year.
Best Sunshine chief operating officer Terence Tay, a former state counsel and deputy public prosecutor with the Attorney General's Chambers of Singapore, commented at the meeting: "We seek approval to give us the opportunity to invest no less than $2bn in this enchanting paradise and work together to deliver a product that every government will be proud of," said Tay, formerly with Genting Singapore, which wholly owns Resorts World Sentosa.
Mr. Tay was part of the steering team that built the Sentosa integrated world resort as a general counsel and head of corporate affairs. Singapore's Resorts World Sentosa was named "Best Integrated Resort" in 2011, 2012, and 2013 at the TTG Travel Awards, which recognises the best of Asia-Pacific's travel industry. In his presentation, Mr. Tay said Best Sunshine will totally fund this investment. "We have no expectations of subsidies or contributions by your government. We do everything ourselves, with your approval of course," he said.
The commission has hired two U.S.-based international consulting groups: casino investigator B2G Global Strategies whose principals and investigators include retired FBI and DEA agents, and gaming consultant The Innovation Group of Companies.
Mr. Tay said that he is not at liberty to disclose at this time the location for the project, but did confirm that Best Sunshine is actively looking at sites. "We really want an iconic building so we need a good location for that," he said. In his presentation, Mr. Tay cited examples of challenges and successes they had in planning and building Singapore's Sentosa to become the integrated resort that is now known worldwide. He said the same experiences, expertise, and planning could be used on Saipan.
Mr. Tay also briefed those in attendance about the nature of an integrated resort, again citing Singapore's Sentosa resort island as an example. Resorts World Sentosa, spanning 49 hectares, welcomed over 45 million visitors in its first three years of opening. It is home to the region's first-and-only Universal Studios theme park and the Marine Life Park. Other attractions include a maritime experiential museum, a destination spa, a casino, six unique hotels, a convention centre, celebrity chef restaurants, and specialty retail outlets.
With an integrated resort concept, visitors would not run out of activities, most of which are not related to casinos, Tay said. But casinos, he said, would help finance the other attractions and facilities.
Meanwhile, Marianas Stars Entertainment Inc., whose application was rejected on May 8 for not depositing US$30m in escrow on time, has sought a meeting with the Lottery Commission. Marianas Stars wants a reconsideration of its casino license application's rejection.