By
Phil
- 12 December 2017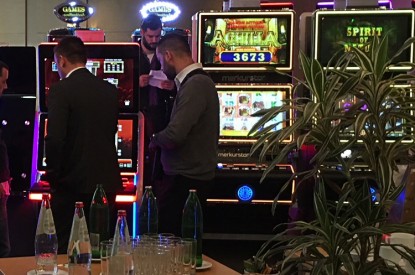 For the fourth time, Merkur Gaming invited customers to attend its in-house exhibition in Serbia. More customers than ever before took advantage of 9 November to inform themselves about the latest products from Merkur Gaming and four other exhibiting companies at Belgrade's Hotel Tulip Inn Putnik.
Highlights at Merkur Gaming's in-house exhibition this year included the premium multigamers Avantgarde, Avantgarde Trio in the Black Series paired with the high-graphic-capability black and white Win City game and the modern Merkurstar upright cabinet. Also on display were the Evolution SL and WB5 cabinet models. A further focus was Merkur Gamings' broad range of games with over 100 to choose from. Visitors were particularly fascinated by Zentaurus, which is based on Greek mythology, fruity-fresh Multi Wild and the exciting adventure game trio Achilla, Tortuga and Æric as a combination in the new Hero Jackpot.
"Whether from Serbia, Bosnia, Montenegro or Croatia – this year, many of our customers took the opportunity to engage with our team in Belgrade and inform themselves about the latest cabinet and games developments," said Borivoje Rajsic, Managing Director Merkur Gaming Serbia. "All five exhibitors received positive feedback for the product presentations. I would like to thank all participating firms for the successful organisation." In addition to Merkur Gaming, the other exhibiting companies were GeWeTe with its cash handling portfolio, EEP Casino with the Xlivebet terminal, Fazi with a casino management system and electric roulette and Pionir International.
Christian Wiechert, Managing Director Merkur Gaming Serbia, was similarly impressed by the great response from customers: "The in-house exhibition in Belgrade showed that our customers see the next development steps in a very positive light. The new Merkur Gaming games are very popular and our customers are now looking forward to positioning them in their own markets."