By
Lewis
- 22 April 2021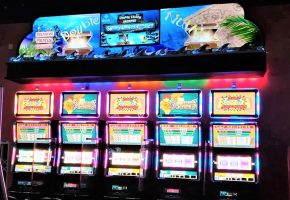 Earlier this week, almost four months after closing their doors due to a second phase lockdown, Gran Kaz re-opened with a Seychelles first: the country's inaugural multi-venue wide-area progressive (WAP) jackpot.
"Our Double Nutty Jackpot has always been massively popular," said Gran Kaz Head of Operations, Jonathan Paul. "But we've never had the ability to really leverage that popularity properly across all three of our local properties.
"The concept is simple, the more people that play the game, the quicker it increments and the more frequently it gets hit, – and who doesn't want more chances to win, not any player I know."
'What we helped Jonathan do was add and link Double Nutty Jackpot to Gran Kaz's Victoria Annex and Bel Ombre casinos," explained DRGT Africa MD, Charl Geyser.
"It had always been massively popular at Mercury House, and what our jackpot technology did was to affect a solution that not only took the jackpot experience across all three properties, but also linked them in so doing creating an extremely compelling and defining player offering."
Jonathan Paul added: "What Charl says is 100 per cent correct: we had the local jackpot, but no way to let it operate across all of our properties as a single compelling Gran Kaz Group-wide offering.
"What DRGT's tech enabled us to do was just that: create a WAP on 3rd-Party slots; it really is something special. Add to that the configuration options that this technology affords us, and we really have something special and world-class."
Gran Kaz Promotions Executive, Sharon Banane, concluded: "Jackpots are in all likelihood second only to customer service when it comes to driving player satisfaction, and loyalty; we are all too aware of the value of returning customers, so we have to keep innovating, and I believe that with DRGT's WAP technology we're doing just that."